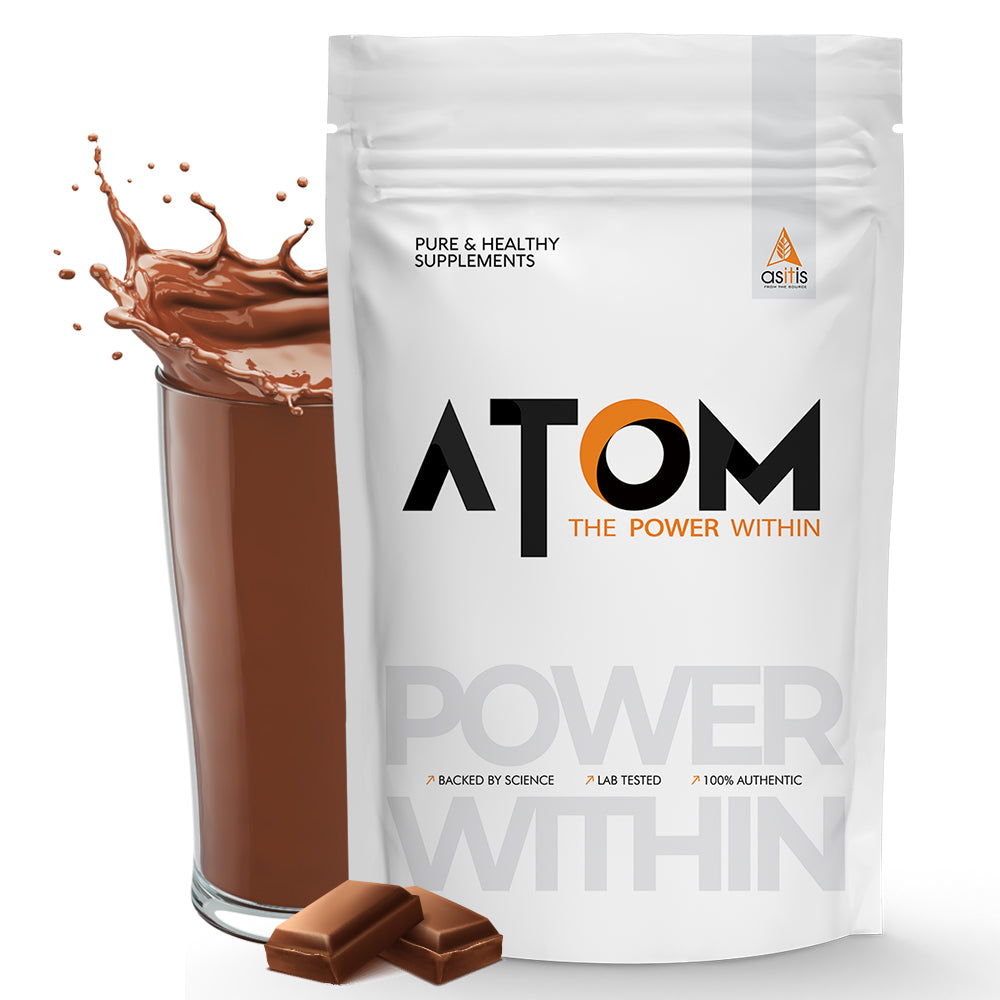 ATOM Whey Protein
MRP: Rs. 1,350.00
BOOSTS YOUR PERFORMANCE TO NEXT LEVEL: When compared to others, Atom Whey protein has greater bioavailability, solubility and the highest PDCAA score of 1. The high-quality protein offers 27g protein per serving, 5.7g BCAA, 4.5g glutamine with minimal calories, fat and no sugar. Whether you engage in aerobic or resistance training, Whey protein supplementation helps you get the best out of every workout.
HIGH CONCENTRATION OF BCAA: The high concentration of BCAAs in Atom Whey Protein help promote anabolic response by maximizing muscle protein synthesis, helps preserve muscle glycogen stores, and minimize protein breakdown. BCAAs reduce the amount of tryptophan and the amount of serotonin produced, eventually allowing you to make more gains.
AUTHENTIC & QUALITY ASSURED: Atom Whey Protein is 100% authentic and goes through stringent analysis before it finally reaches the customers. It is manufactured at FSSAI approved and GMP certified manufacturing plant. The supplement includes the best ever blend of Whey protein concentrate and Whey protein isolate to boost your power within and promote optimal gains. The product allows you to validate the authenticity before opening the seal.
IDEAL PROTEIN FOR EVERYONE: The 100% vegetarian, easy, & convenient AtomWhey protein supplement has an edge over other protein supplements in terms of fueling the muscle tissue. Whey serves as a mainstay protein not only for those interested in building muscle mass but also for those who turn to dietary protein to fill the protein gaps a varied diet. The deliciously flavoured Whey fits all and comes with an enzyme blend to facilitate faster assimilation of Whey.
PROMOTES FAT LOSS & PRESERVES MUSCLES: Whey protein with a high concentration of BCAA and glutamine serves as an excellent means for replacing the carbs in diet for the purpose of weight loss. Being in an energy deficit appears to reduce basal muscle protein synthesis. Prioritizing Whey protein intake during a calorie deficit diet combined with intense exercise promotes fat loss, helps prevent muscle catabolism, prevents muscle fatigue, conserves muscle function and muscle performance.
AMPS MUSCLE SYNTHESIS & MUSCLE RECOVERY: Strength training causes micro-tears in muscle fibres, which trigger inflammation and the body's repair process. Whey digests faster than other forms of protein meaning that the body is able to receive the essential amino into the muscles at a faster rate, resulting in faster overall recovery. Consuming Whey within 30 minutes of exercise increases the body's ability to stimulate protein synthesis & reduce muscle soreness.