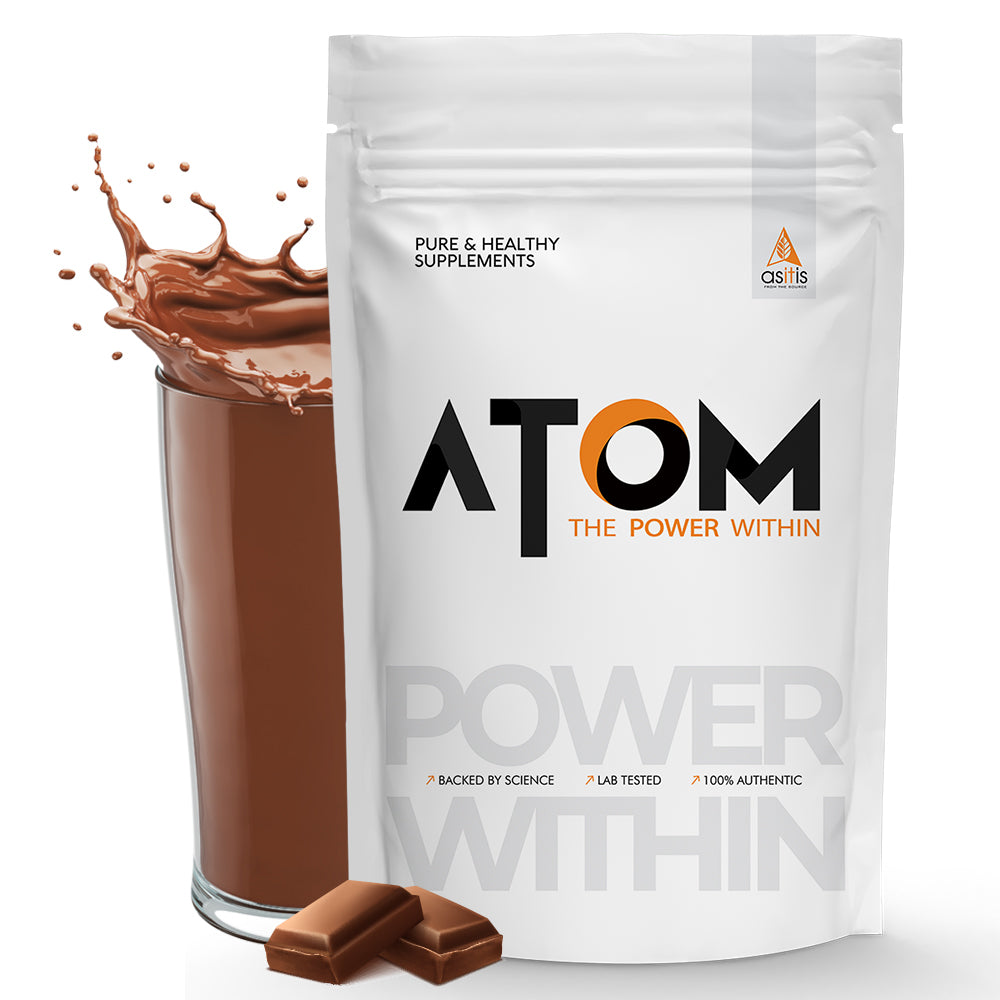 AS-IT-IS ATOM Beginners Whey Protein | Accelerates Muscle-building | Increases Body Strength
MRP: Rs. 999.00
OPTIMIZES PROTEIN SYNTHESIS: Beginners with diverse fitness goals will benefit from ATOM Beginners Whey that is specially crafted for those with little or no previous strength training experience. Whey Protein greatly enhances plasma and intermuscular leucine to produce the potential anabolic response after exercise. Carbs facilitate intercellular signaling through insulin and elevates muscle cell's energy status. Carbs act as optimizing nutrients for achieving more favourable net muscle protein balance. The supplement is 100% authentic, it is manufactured at a GMP-certified unit and is 3rd party lab-tested for assurance on purity and potency.
HELPS ADD MUSCLE MASS & MAINTAIN ENERGY: Consuming Whey along with carb is more beneficial in order to maximize muscle gains in young untrained individuals. The carb consumption acts as a nutritional strategy to optimize the availability of muscle glycogen stores, this can delay fatigue, make for a better workout and stronger muscles. Without the right balance of protein and carbohydrates, you'll feel sore, fatigued after a tough training session. Optimal muscle glycogen stores act as an important substrate for contracting muscle during prolonged exercise.
ATTENUATES MUSCLE PROTEIN BREAKDOWN: Skeletal muscle responses to exercise and protein supplementation differ between trained and untrained individuals. Effective adaptation to training for beginners occurs with proper intake of fuel to rehydrate, replenish and repair muscle tissue. Coingestion of carbs and Whey Protein has been shown by studies to enhance cellular hydration, glycogen resynthesis, and favour positive protein balance compared to taking Whey Protein alone. Compared to other protein sources, Whey Protein has greater bioavailability, the added enzyme blend improves digestibility and optimizes the absorption of the nutrient.
HELPS MAINTAIN MUSCLES: For individuals experiencing difficulties consuming sufficient protein regularly, Whey supplementation may be a beneficial option. It has a favourable amino acid profile that helps promote sustained increase in skeletal muscle protein synthesis. The essential amino acids in Whey help decrease muscle damage, may reduce the length of DOMS and muscle fatigue. The beginners Whey can help accomplish weight loss goals too, greater energy from the blend of protein and carb means greater loss of fat but retention of muscle while dieting.
OPTIMIZES RESPONSE TO TRAINING: Gains in muscle mass require regular training over an extended period of time. Whey supports and accelerates muscle recovery which is a key to improving athletic performance. Consuming Whey in and around endurance training upregulates gene expression of protein necessary for improving bioenergetics pathways. Consuming the supplement after training helps in restoration of muscle function, may improve muscle reconditioning following exercise, greater whole body protein balance and may be advantageous for those aiming to enhance training quality.
INCREASES BODY STRENGTH: Resistance training is the most effective strategy to enhance muscle strength and size. The dietary supplement is designed to improve body composition in varying energy states and exercise training conditions. Whey Protein because of its rapid absorption kinetics, and carb because of refueling the glycogen stores serves as a valuable tool for beginners to maximize their recovery from exercise, improve whole-body protein synthesis, net protein balance, reduce protein breakdown that translates into greater increases in muscle strength and hypertrophy.
CONFORMS TO NADA /WADA: 

Free from any doping ingredients as per NADA / WADA
Frequently Asked Questions on Atom Beginner's Whey Protein
WHAT DOES ATOM BEGINNERS WHEY PROTEIN INCLUDE?
ATOM Beginners Whey Protein is an appropriate breakthrough formula well-designed for beginners who are yet to reach a more advanced level in bodybuilding. ATOM Beginners Whey includes a blend of fast acting Whey Concentrate, Whey Isolate, carbohydrates, enzyme blend, skimmed milk powder, stevia extract, lecithin.
HOW TO CONSUME ATOM BEGINNERS WHEY PROTEIN?
Add one scoop (37g) of ATOM Beginners Whey Protein to 200ml of water or your favourite drink. Blend it with a shaker or a blender for 15-30 seconds. Enjoy the delightful experience of consuming Whey Protein.
DOES ATOM Beginners Whey contain stevia?
ATOM Beginners Whey contains stevia, which is often touted as a safe, and healthy sugar substitute. 
IS ATOM BEGINNERS WHEY GLUTEN-FREE & SOY-FREE?
Yes, the product is gluten-free and soy-free.
IS ATOM BEGINNERS WHEY SUPPLEMENT FLAVOURED?
Yes, ATOM Beginners Whey Protein supplement comes in delicious chocolate hazelnut flavour.
WHEN IS THE RIGHT TIME TO TAKE ATOM BEGINNERS WHEY PROTEIN?
ATOM Beginners Whey is suitable to be consumed either before or after your workouts. Consuming ATOM Beginners Whey Protein before your exercise helps stimulate the release of insulin, which improves protein synthesis and prevents protein breakdown, helps to sustain energy, boost performance, preserve muscle mass, slows the onset of fatigue, can reduce markers of muscle damage, and speed recovery. Drinking a shake of ATOM Beginners Whey Protein within 30 minutes of finishing your training session will flood your system with amino acids and carbs which are quickly shuttled into your muscle cells to initiate glycogen restore and muscle recovery. The less damage to your muscles means, faster recovery, and you adapt to your training over the long term.
HOW TO CHECK THE AUTHENTICITY OF ATOM BEGINNERS WHEY PROTEIN?
ATOM Whey Protein is integrated with a 2-step authentication method. The QR CODE and the SCRATCH CODE confirms the authenticity of the pack when verified with the app.
IS LECITHIN ADDED IN ATOM BEGINNERS WHEY PROTEIN?
Yes, ATOM Beginners Whey Protein contains a small amount of sunflower lecithin to enable protein and carbs to easily disperse in water and facilitate in achieving clump-free, smooth protein shake.
IS ATOM BEGINNERS WHEY SUITABLE FOR BOTH MEN & WOMEN?
ATOM Beginners Whey is not gender-specific. It helps meet the fitness goals for both men and women.
WHICH ARE THE ENZYMES INCLUDED IN ATOM BEGINNERS WHEY PROTEIN?
ATOM Beginners Whey Protein includes lipase, amylase, protease, lactase, cellulase, alphagalactosidase, invertase.
IS ATOM BEGINNERS WHEY VEGETARIAN?
Yes, the product is vegetarian.
DOES ATOM BEGINNERS WHEY PROTEIN INCLUDE A SCOOP INSIDE?
Yes, ATOM Beginners Whey Protein includes a 37g scoop inside.
WHAT IS THE REASON FOR INCLUDING CARBS WITH WHEY?
For those fairly new to the gym routine, the types of calories you choose for performance can make a difference in how you adapt to the new training regime. Carbs help to maximize your body's availability of muscle glycogen, which is the stored form of carb that serves as the quickly accessible energy during your workout. When muscle glycogen stores run down, fatigue soon sets in and you'll feel less motivated to carry your workouts further. The fast acting protein blend, Whey Concentrate and Whey Isolate produce anabolic response after training, accelerates muscle repair and recovery, prevents muscle loss and contributes to muscle building.
Is ATOM Beginners Whey suitable for lactose-intolerant?
ATOM Beginners Whey may not be suitable for those with dairy-allergy or lactose-intolerance.
HOW MANY SERVINGS DOES ATOM BEGINNERS WHEY PROVIDE?
ATOM Beginners Whey provides 27 servings of 37g each.
IS ATOM BEGINNERS WHEY EASY TO DIGEST?
Yes, ATOM Beginners will not cause any digestive distress, it is blended with digestive enzymes to help the body quickly absorb the nutrients to put it to good work. 
DOES WHEY PROTEIN BENEFIT IN MUSCLE BUILDING?
Incorporating Whey Protein to your training helps you intake the most important macronutrient credited with maintaining lean muscle mass. ATOM Beginners Whey includes the more bioavailable and fast-acting protein combo, Whey Concentrate and Whey Isolate which also drops 2.9g BCAA and 2.3g glutamine amino acids into the body to aid muscle growth and to tackle post-workout fatigue. Whether you lift dumbbells, barbells, or kettlebells, ATOM Beginners Whey is a handy way to get the proper nutrition.