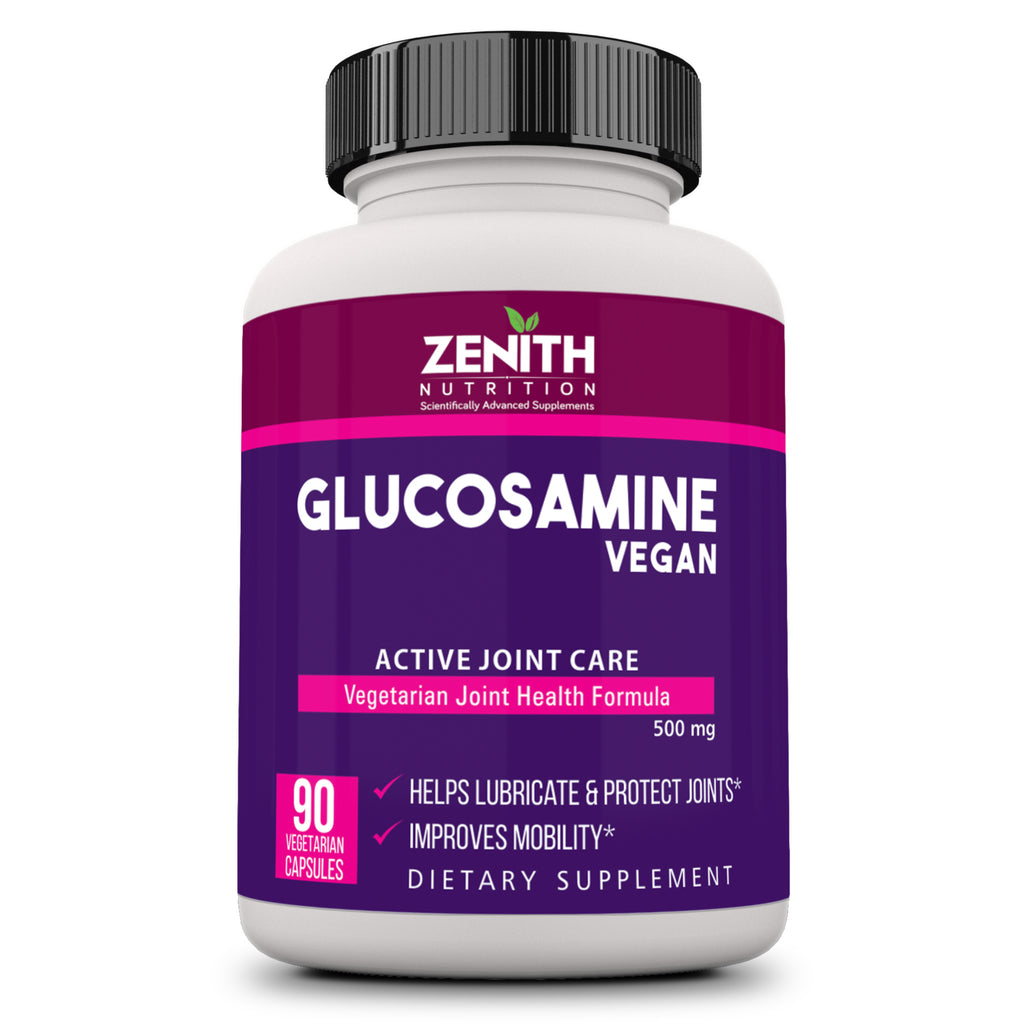 Vegan Glucosamine 500mg - 90 Veg caps
MRP: Rs. 900.00
100% VEGAN GLUCOSAMINE: Of all the supplements on shelves purporting to offer the best benefits to joint health, glucosamine is the most popular and trusted one. While the most common source of glucosamine on the market is sourced from animals or shell-fish, our 100% vegan glucosamine supplement is derived from non-GMO corn. The dietary supplement contains a highly bioavailable form which do not require preservatives to maintain shelf quality. Vegan glucosamine is perfect for vegans, vegetarians and those who have shellfish allergies.

ACTIVE ADVANCED JOINT CARE: Glucosamine is an amino saccharide that plays an important role in making glycosaminoglycans and glycoproteins, which are the essential building blocks of many parts of joints, including ligaments, tendons, cartilage and synovial fluid. Proper glucosamine levels reduce proteoglycan loss, delays cartilage degeneration, joint space narrowing and improve osteoarthritis pain. Research studies have uncovered glucosamine's mechanism of action on articular tissue and justified its efficacy for providing advanced joint support by structure modifying and anti-inflammatory effects.
HELPS PREVENT CARTILAGE DEGENERATION: It is suggested by studies that the way ligaments, tendons and cartilage are built and maintained contributes to the development of joint health. Glucosamine supplementation is believed to help maintain cartilage integrity and function by playing a key role in the biosynthesis of specialized molecules called proteoglycans and glycosaminoglycans, which are the building blocks of cartilage formation, and prevent the breakdown of cartilage. Regular supplementation with glucosamine has shown to have a moderate effect by slowing the rate of joint cartilage degeneration if taken regularly.

RELENISHES DEPLETED NATURAL STORES: Although glucosamine is naturally produced in the body, dietary nutritional glucosamine supplementation have become popular to replenish the body's natural supply. As we age, our body produces less of this joint supporting compound, which means glucosamine stores in the cartilage are not replaced efficiently as they once were. Over time, this leaves cartilage vulnerable to wear and tear. Since they aren't any natural food sources of glucosamine, it is beneficial to be consumed in supplemental form.

GLUCOSAMINE HAS ANTIOXIDANT PROPERTIES: Reactive oxygen species which may be produced due to mechanical stress, trauma or chemicals serve as an important mediator in joint degradation. The free radicals can trigger cellular damage on the cartilage, induce collagen degradation, and inhibit proteoglycan synthesis. The antioxidant properties of glucosamine have been reported to exhibit promising antioxidant activities, reduce oxidative stress in chondrocytes. Glucosamine is found to exert strong anti-inflammatory effects by downregulating serum pro-inflammatory cytokines and C-reactive protein levels and upregulating anti-inflammatory cytokines.
HELPS IMPROVE JOINT MOBILITY: The prevalence of primary osteoarthritis of knee and hip joints has substantially increased in general population during the last decades. Analgesics and anti-inflammatory drugs which are extensively used as a treatment option act only as a symptomatic treatment not offering a cure and are accused of increasing the risk of adverse effects. Supplemental glucosamine potentially act as chondroprotectors offering not only a symptomatic relief but also alteration of the natural history of osteoarthritis. Glucosamine increases the amount of fluid in joints and helps improve mobility and joint health.
Directions: Take one serving after food or as directed by the physician. Store in a cool, dry place.

Disclaimer: These statements have not been evaluated by the FDA. These products are not intended to diagnose, treat, cure, or prevent any disease. There are no guarantees that every person using this product/service will see the expected results for sure. Results depend on a lot of factors and the results may vary from person to person.

Warnings: Pregnant or lactating women, diabetics, hypoglycemics, and people with known medical conditions and/or taking drugs should consult with a licensed physician and/or pharmacist prior to taking dietary supplements.