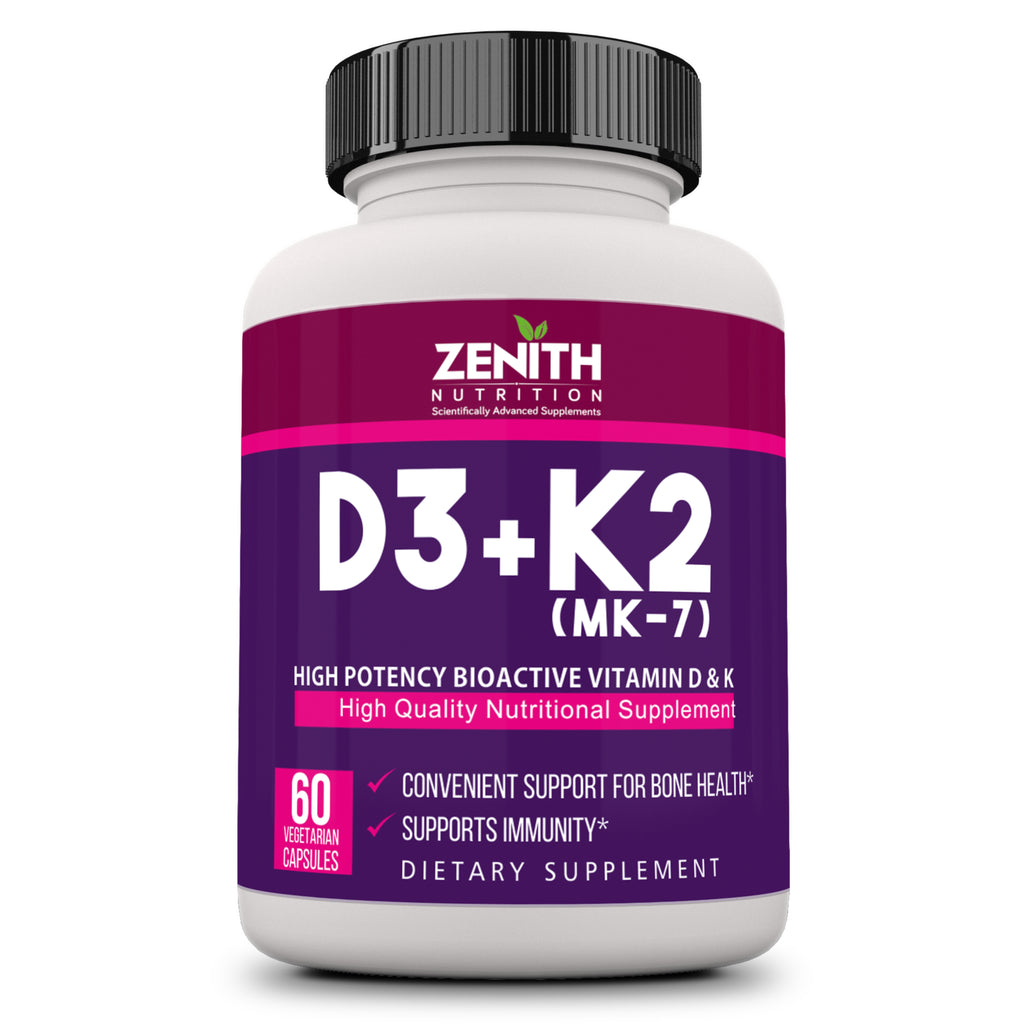 Vitamin D3 & K2 - 60 Veg caps
MRP: Rs. 860.00
HIGH POTENCY BIOACTIVE VITAMIN D & K: The dietary supplement includes the combination of active ingredients vitamin D3 and vitamin K2 in their most bioavailable form to maximize the effects of both the vitamins. The vegetarian formula goes through strict quality control procedures to validate purity and potency. The supplement is easy to swallow and is free of gluten, egg, fish, flavour, colour or preservatives.
REGULATES EFFECTIVE ABSORPTION OF CALCIUM: Vitamin K works in synergy with vitamin D to ensure calcium is absorbed effectively and reaches bone mass, while preventing arterial calcification. Without adequate vitamin D, our body cannot absorb proper calcium. Vitamin D3 works with vitamin K to increase the body's ability to absorb calcium. Vitamin K2 is essential for mineralization of bones and for clotting of blood. Both the vitamins work to help reach the calcium to your bones, while preventing undesirable deposition of calcium in soft tissues.
HELPS MAINTAIN CARDIOVASCULAR HEALTH: Sufficient amount of vitamin D in the body is required to maintain healthy levels of cholesterol. Calcification of arteries is commonly absorbed with low levels of vitamin K in the body. Vitamin K2 promotes healthy calcium utilization and discourages it being deposited in arteries, heart valves, etc. Vitamin K2 promotes flexible, resilient arteries and heart valves, promoting a healthy heart.
SUPPORTS BRAIN HEALTH: Vitamin K2 and vitamin D3 work synergistically to maintain brain health and support cognition. A deficiency of vitamin D in the body may cause bad mood and affect cognitive health. Vitamin D benefits the brain functioning, improves focus and mood. The anti-inflammatory attributes of vitamin K help fight the oxidative stress and protect your brain from free radical damage.
STRENGTHENS IMMUNITY: Vitamin D helps you stay healthy by strengthening your immune system. It encourages replication of healthy cells that prevent autoimmune disease. Vitamin K2 which is significantly more absorbable and active form activates protein that generates new, healthy cells vital for maintaining balanced immune responses and helps the body run efficiently at the cellular level.
REGULATES INFLAMMATION: Studies suggest that the fat-soluble vitamins, vitamin K and vitamin D have been implicated in healthy inflammatory response. The high levels these vitamin status is associated with low concentrations of inflammatory markers. Vitamin K2 is also associated with decreased production of proinflammatory cytokines.
Directions: Take one serving after food or as directed by the physician. Store in a cool, dry place.

Disclaimer: These statements have not been evaluated by the FDA. These products are not intended to diagnose, treat, cure, or prevent any disease. There are no guarantees that every person using this product/service will see the expected results for sure. Results depend on a lot of factors and the results may vary from person to person.

Warnings: Pregnant or lactating women, diabetics, hypoglycemics, and people with known medical conditions and/or taking drugs should consult with a licensed physician and/or pharmacist prior to taking dietary supplements.
Also Try, Glucosamine Chondrotin with MSM