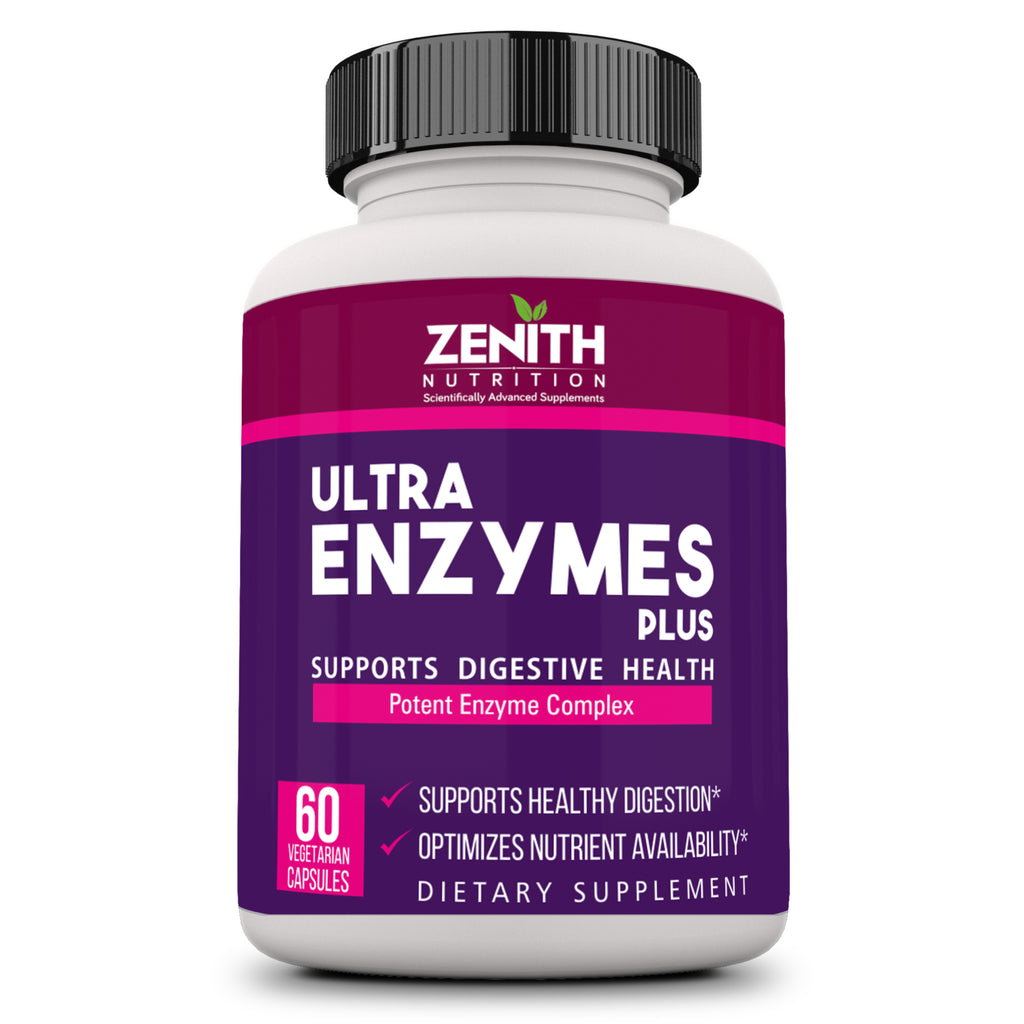 Zenith Nutrition Ultra Enzymes Plus – 60 Veg caps
MRP: Rs. 850.00
KEY TO DIGESTIVE HEALTH: The comprehensive digestive enzyme formula provides a proprietary blend of vegetarian digestive enzymes to replenish and fortify your body's enzyme level to promote healthy digestion. Supplementing with digestive enzymes offers the next step to healthy living. They ensure proper breakdown of foods, absorption and assimilation of vital nutrients from meals.
BROAD SPECTRUM ACTIVITY: The supplement contains 15 plus enzymes which are formulated to maximize healthy digestive function. The broad-spectrum potent enzymes may work across a wide range of pH levels in the stomach and help to process difficult to digest foods like gluten, carbs, protein, lactose and fibre.
REDUCE BLOATING & GAS: The included enzymes in the enzyme blend like alpha-galactosidase and cellulase break down complex carbohydrates like beans, vegetables and grains, lactase help to breakdown lactose, lipase helps to breakdown fats, and provide relief against conditions like gas, bloating and stomach ache that results due to improper digestion of food. If you experience digestive discomfort after consuming dairy products, and legumes, digestive enzyme supplement is what comes to your aid.
FORMULATED WITH FINEST INGREDIENTS: The formulation contains all-natural and trusted ingredients that are vegetarian-friendly and suitable for those with lactose intolerance. The easy to swallow capsules are packed in gluten-free capsules. They undergo rigorous lab-testing for assurance on purity and quality.
PROVIDES METABOLISM BOOST: Assists the body to break down proteins, fats, carbohydrates, dairy and helps in assimilating nutrients that work at a cellular level. This will bring a balance among the interdependent systems in the body. The supplement helps the body regain the nutrients that most people are missing out on due to the unhealthy food practices and lack of raw foods from their diets.
HELP MANAGE MULTIPLE DIGESTIVE DISORDERS: The multi-enzyme blend provides digestive comfort by aiding in complete digestion of food and provides relief against bloating, heartburn, diarrhoea, indigestion, cramps, abdominal pain, nausea, irritable bowel syndrome, constipation, leaky gut etc.
Directions: Take one serving after food or as directed by the physician. Store in a cool, dry place.

Disclaimer: These statements have not been evaluated by the FDA. These products are not intended to diagnose, treat, cure, or prevent any disease. There are no guarantees that every person using this product/service will see the expected results for sure. Results depend on a lot of factors and the results may vary from person to person.

Warnings: Pregnant or lactating women, diabetics, hypoglycemics, and people with known medical conditions and/or taking drugs should consult with a licensed physician and/or pharmacist prior to taking dietary supplements.