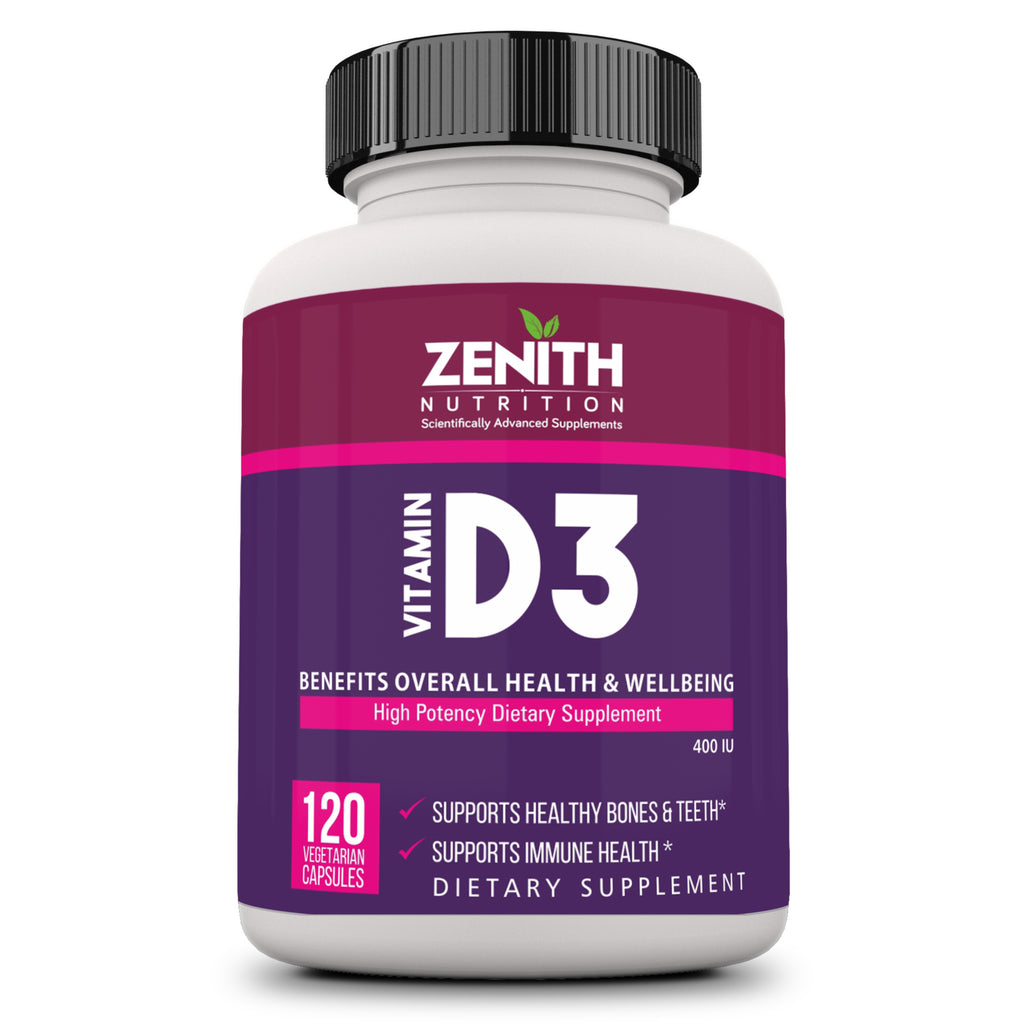 Vitamin D3 - 120 Veg caps
MRP: Rs. 412.00
VITAMIN D3 HIGH POTENCY DIETARY SUPPLEMENT: Vitamin D3, also known as Cholecalciferol is known to be the biologically active form of vitamin D. The lack of sufficient vitamin D in the body is linked to an inability to fight infections effectively, muscle weakness, fatigue, imbalanced sugar,  heart issues etc. Our vegetarian supplement is found to be free of gluten, fish, lactose, flavour, sugar, salt, colour and preservatives. It has gone through rigorous testing to validate purity and potency. 
VITAMIN D3 SUPPORTS STRONG BONES: Our body's ability to make vitamin D diminishes with age. Aging leads to degenerative conditions of the spine and decreased musculoskeletal function which leaves us susceptible to fractures, muscle pain and so on. Supplementation with vitamin D3 is known to help reduce the risk of fractures because of its function in bone mineralization.
VITAMIN D3 BOOSTS IMMUNE SYSTEM: Sufficient levels of vitamin D reduce the risk of infections by strengthening your immune system. Vitamin D plays a crucial role to turn on the key peptides in your immune system that trigger a strong anti-microbial response, allowing you to quickly and effectively fight infections.
VITAMIN D3 PROMOTES CALCIUM & PHOSPHORUS ABSORPTION: Vitamin D is needed to absorb calcium and phosphate into your body. Even if you eat foods that contain a lot of calcium and phosphate, they won't be absorbed into your body unless you have enough vitamin D. The supplementary vitamin D3 regulates the body's ability to absorb phosphorus and calcium and increase the strength and density of the skeletal system.
VITAMIN D3 HELPS BOOST MUSCLE STRENGTH: Active vitamin D in the bloodstream is associated with improved muscle function. In the body, vitamin D regulates functions of over 200 genes and is essential for growth and development. Studies have indicated that low vitamin D is associated with low testosterone levels and that vitamin D has the potential to directly stimulate muscle protein synthesis.
VITAMIN D3 MAINTAINS DENTAL HEALTH: Vitamin D is incredibly important to maintain dental health. The deficiency of this vitamin is thought to increase the risk of tooth decay and gum disease in the mouth. The supplementary vitamin D3 provides optimal levels of vitamin D to the body to help maintain healthy teeth. 


Directions: Take one serving after food or as directed by the physician. Store in a cool, dry place.

Disclaimer: These statements have not been evaluated by the FDA. These products are not intended to diagnose, treat, cure, or prevent any disease. There are no guarantees that every person using this product/service will see the expected results for sure. Results depend on a lot of factors and the results may vary from person to person.

Warnings: Pregnant or lactating women, diabetics, hypoglycemics, and people with known medical conditions and/or taking drugs should consult with a licensed physician and/or pharmacist prior to taking dietary supplements.