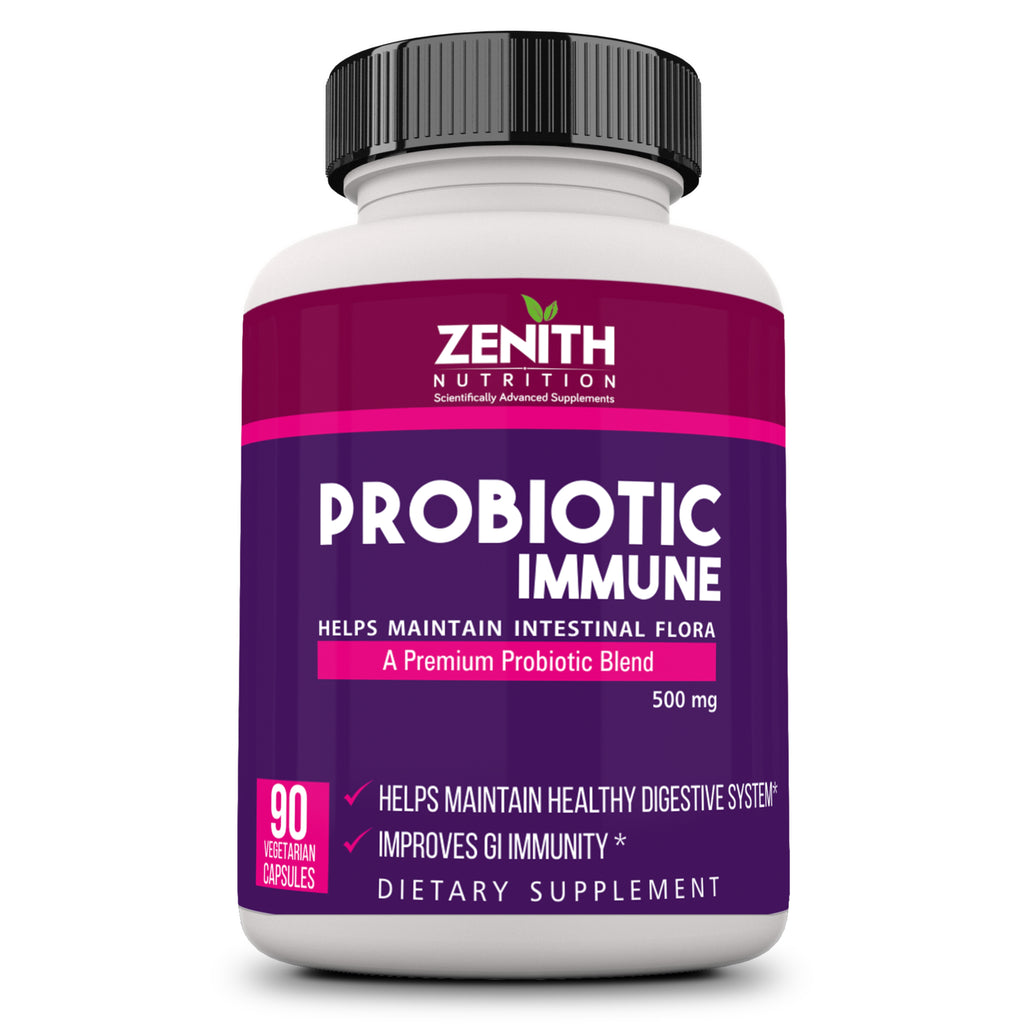 Probiotic Immune - 90 Veg caps
MRP: Rs. 535.00
HIGH POTENCY FORMULA: Zenith Nutrition Probiotic immune is a premium, targeted formula which contains a specialized blend of strains designed to condition your gut and create a perfectly balanced gut biome. With 2 billion CFUs, it is formulated to help you derive quick relief from stomach upsets, improve gut motility, reduce intestinal pathogens and digestive disturbances.
4 STRAINS OF PROBIOTIC: The probiotic immune contains strains of Lactobacillus rhamnosus, Bifidobacterium, Bifidum acidophilus, Bifidobacterium longum. It is suitable for vegetarians and lactose-intolerant people. Formulated without gluten, salt, flavour, or any other undesirable ingredients, leaving more room in each capsule for the helpful microorganisms. To ensure quality and safety, our supplements go through extensive quality control tests.
IMPROVES DIGESTION: The probiotic immune is formulated to provide a measured and more consistent concentration and composition of gut-flora enhancing compounds. The supplement provides a balanced probiotic formula keeping in mind the purpose of promoting digestion and to help derive the expected results in a shorter duration.
MAINTAINS IMBALANCES IN GUT FLORA: The ideal ratio of beneficial to pathogenic microbes is around 85:15. Unfortunately, most people have an inverse ratio due to eating too much processed foods, the sugary diet which typically forms bad bacteria. The probiotic supplement help decrease the number of bad bacteria which plays a direct role in the bioavailability of vitamins and minerals.
HELPS MANAGE WEIGHT: Probiotics may help get rid of excess weight. Obese people have significant differences in gut bacteria when compared to normal-weight individuals. The probiotics may help heal the gut by decreasing the number of bad bacteria. Probiotic immune supplement when combined with a healthy diet and lifestyle may be an effective strategy for weight management.
EFFECTIVE WAY TO OVERALL WELL-BEING: Probiotic Immune offers a safe and effective way to enhance your immune system and well-being. It has been shown to have positive effects on the body including immunomodulation offers protection against infections, improves digestive health, increases nutrient absorption, helps with weight loss, and in improving brain health.
NATURALLY BOOSTS IMMUNE SYSTEM: By inhibiting the growth of pathogenic microbes and by maintaining microbial homeostasis, probiotics act as a barrier to pathogens. Probiotics stimulate the production of immunoglobulins, thereby provide protection against invasive bacteria.
Directions: Take one serving after food or as directed by the physician. Store in a cool, dry place.

Disclaimer: These statements have not been evaluated by the FDA. These products are not intended to diagnose, treat, cure, or prevent any disease. There are no guarantees that every person using this product/service will see the expected results for sure. Results depend on a lot of factors and the results may vary from person to person.

Warnings: Pregnant or lactating women, diabetics, hypoglycemics, and people with known medical conditions and/or taking drugs should consult with a licensed physician and/or pharmacist prior to taking dietary supplements.