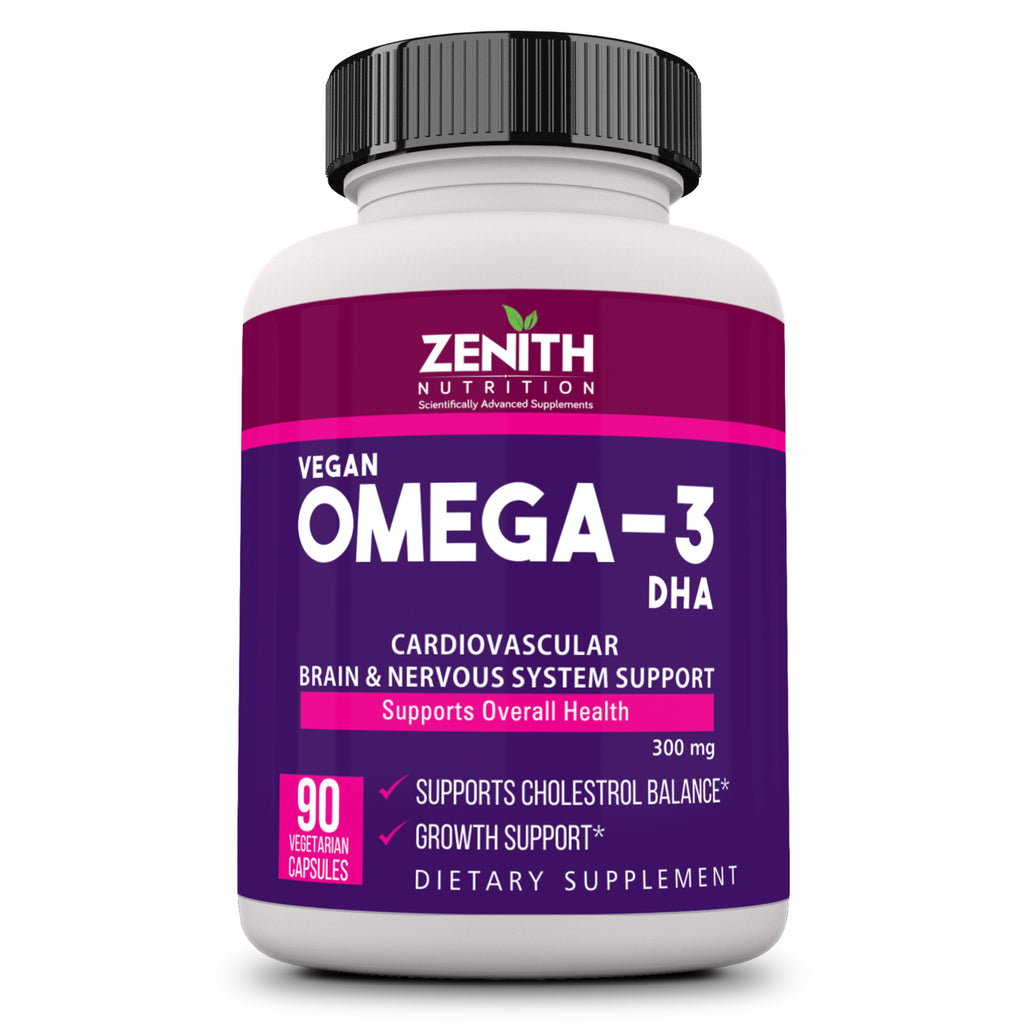 Vegan Omega-3 Dha - 90 Veg caps
Sold Out
SUPPORTS OVERALL HEALTH: DHA is omega-3 fatty acids which are a group of essential polyunsaturated fatty acids. The term essential means the body cannot make them on its own and therefore must consume through food or supplements. Omega-3 fatty acids may benefit your health in several ways. They function as building blocks of hormones, play a role in energy production, maintaining healthy cholesterol, immune system, skin health, joint health, muscle health, regulates inflammation, supports brain, heart function, mood issues and more.

PROMOTES HEART HEALTH: There is consistent evidence on omega-3s ability to lower triglyceride levels. High levels of triglycerides have been linked with fatty build up in the artery walls, which increases your risk of heart attack and stroke. Omega-3 fatty acids may improve endothelial function by promoting the release of nitric oxide from endothelial cells. DHA have antioxidant and anti-inflammatory effects and may have a favourable effect in maintaining healthy blood pressure.
CONTRIBUTES TO BETTER EYE HEALTH: DHA is found in high concentration in the retina, the part of the eye that is responsible for visual recognition, suggesting it has an important function in helping send signals to the brain. It has been shown through several studies that one who do not get enough DHA in their diet may suffer from visual impairment and degradation of the retina. Omega 3 DHA have a protective role in reducing the onset and progression of retinal and vision problems. DHA optimizes fluidity of photoreceptor membranes, retinal integrity and visual function.

SUPPORTS JOINT HEALTH: In a healthy immune system, the normal inflammatory process repairs damage and protects body infections. But in conditions of autoimmune function, inflammation can damage tissues. Omega-3 fatty acids can normalize the way immune system functions, they are shown to have anti-inflammatory benefits, which are particularly helpful for reducing joint pain particularly in arthritis. Omega-3 fatty acids are known to reduce the amount of pro-inflammatory substances and cartilage-damaging enzymes in the body, help reduce joint stiffness and musculoskeletal dysfunction.

PROMOTES OPTIMAL SKIN HEALTH: A healthy skin barrier is one that prevents dehydration and can prevent foreign substances from getting absorbed into the skin that might irritate deeper layers of the skin. Omega 3 fatty acids have anti-inflammatory benefits that protect the skin cells from sun-induced inflammation, Omega 3s serve to regulate the skin's oil production, improve balanced hydration, subdue breakouts, minimize signs of aging, help soften rough, dry skin., boosts collagen and prevents fine lines and wrinkles.
 HELPS REGULATE MOOD: Omega-3 supplementation exhibit neuroprotective properties and has been associated with increased attention and physiological functions. DHA promotes the release of mood-boosting neurotransmitters, dopamine and serotonin. Adequate intake of omega-3 is associated with a reduced risk of stress and mood decline. Research suggests that omega 3 is related to a number of biological processes that have associated with brain functioning. The supplementation is especially helpful in menopausal women and old age adults.

Directions: Take one serving after food or as directed by the physician. Store in a cool, dry place.


Disclaimer: These statements have not been evaluated by the FDA. These products are not intended to diagnose, treat, cure, or prevent any disease. There are no guarantees that every person using this product/service will see the expected results for sure. Results depend on a lot of factors and the results may vary from person to person.

Warnings: Pregnant or lactating women, diabetics, hypoglycemics, and people with known medical conditions and/or taking drugs should consult with a licensed physician and/or pharmacist prior to taking dietary supplements.