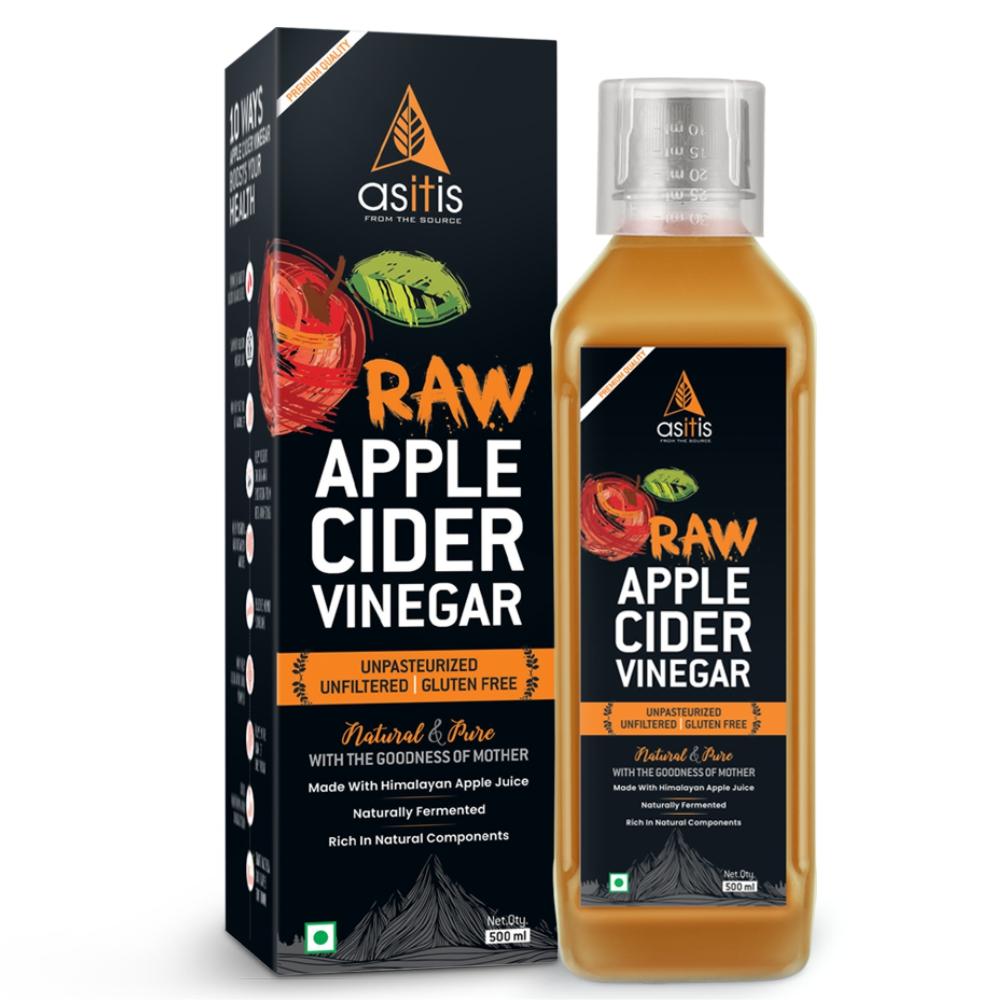 AS-IT-IS Nutrition Raw Apple Cider Vinegar With "Mother" – 500ml Unfiltered & Undiluted
MRP: Rs. 405.00
RAW/UNFILTERED/UNPASTEURIZED: This product is raw, unfiltered, unpasteurized, gluten-free, dairy-free, egg-free, free of harmful fillers, chemicals, and additives. It is rich in healthy ingredients like natural vitamins, minerals, antioxidants, and enzymes.
WITH THE  "GOODNESS OF MOTHER": The healthiest version of vinegar is made from the best quality Himalayan apples which contain 'mother' – with potent raw enzymes and gut-friendly probiotics. 
NATURAL DETOXIFIER: Contains the nutrition of apples with the strong fermentation effect. Adding it to daily routine aids multiple metabolic processes in the body like maintaining blood sugar stability, detoxification, digestive and immune health.
POTENT WEIGHT LOSS AID: Apple cider vinegar contains a unique acidic profile that helps to activate your metabolism and increase the utilization of fat for energy. It also acts as a natural appetite suppressant and supports your goal to be healthy and fit.
PERFECT AID FOR BLOATING RELIEF: The pH level of apple cider vinegar serves as an activator of enzymes in the stomach and pancreas. Besides, it also triggers the release of bile from the pancreas to aid in more complete digestion which means you feel less bloated.
3rd PARTY LAB-TESTED: AS-IT-IS apple cider vinegar is a premium grade, high potency 100% pure formula that is manufactured in an FSSAI certified facility. It is also a 3rd party lab-tested to ensure purity and potency.

PROMOTES SKIN & HAIR HEALTH: Apple cider vinegar can do wonders on your skin by regulating the skin pH levels. The antibacterial properties in apple cider vinegar clear the debris on the skin and restrict the dilation of the skin pores. Apple cider vinegar is a natural detangler; it cleanses your scalp and imparts a healthy shine to your hair by giving it a silky texture.
Ingredients : Natural vitamins, minerals, antioxidants and enzymes.
Direction
: Mix 1-2 teaspoons of
Apple
cider vinegar in a glass of water and consume on empty stomach every morning or use it as a salad dressing
Expiry Date: 18 months from the date of manufacture.                                               
Frequently Asked Questions On Apple Cider Vinegar
What Is Apple Cider Vinegar? How Is It Made?
Apple cider vinegar is the fermented juice of apple. It is made by a dual fermentation process which involves adding yeast and bacteria to the crushed apples. The yeast converts the sugars in apples into alcohol and the bacteria convert the alcohol into acetic acid. The all-natural apple cider vinegar thus obtained is acclaimed as a great source of antioxidants and contains an array of natural ingredients and polyphenol that give wonderful health benefits.

Why Does Apple Cider Vinegar Have A Cloudy Appearance?
The raw, unfiltered, unpasteurized apple cider vinegar contains the probiotics (a colony of bacteria) referred to as a mother, which is considered to be the most nutritious part. The mother appears like floating little strands and is concentrated at the bottom of the bottle, giving it a cloudy appearance.

How Does Apple Cider Vinegar Assist With Digestive Health?
The acetic acid in apple cider vinegar mimics the acid levels of your stomach, helps breakdown complex foods like proteins and aids in smooth digestion. Besides, the mother in apple cider vinegar serves as an excellent prebiotic. It feeds the good bacteria in your stomach aiding in digestion and overall good health.

What Is The Best Time To Consume Apple Cider Vinegar?
The best time to consume apple cider vinegar is before meals. Through its anti-glycemic effect, it blocks the digestion of complex carbohydrates like starch and prevents the blood sugar levels to spike. Consuming apple cider vinegar on an empty stomach boosts the ability to process
foods and aids in the weight-loss result.

Is apple cider vinegar beneficial for weight loss?
Yes, apple cider vinegar is a low-calorie diet food supplement. Regular consumption of it is beneficial in promoting weight loss through increased metabolism and increased satiety. The acetic acid in apple cider vinegar helps regulate the blood pH and improve blood circulation. It helps suppress appetite, burn fat and increase metabolism.

What Are The Uses Of Apple Cider Vinegar?                                                         Apple cider vinegar offers multipurpose benefits. Consuming 1-2 tbsp of it diluted in water regularly supports optimal health. Apple cider vinegar is a natural detangler; it cleanses your scalp and imparts a healthy shine to your hair by giving it a silky texture. It keeps the skin from becoming too oily or too dry by balancing the production of sebum. It helps restore a healthy
the glow of the skin.
 
Is It Useful For Acne Marks & amp; Scars?
Yes, apple cider vinegar is great as a facial toner. The pH level of the apple cider vinegar matches the pH level of the acid mantle of the skin. It's antibacterial and antioxidant properties are helpful in treating the acne and in reducing the acne marks.
What Is The Daily Dosage Of Apple Cider Vinegar & How Long It Takes To Find Results?
The best-recommended dosage is 15-30ml per day diluted in water. Sustain the use of apple cider vinegar for several months for good health benefits.

What Is The Source Of AS-IT-IS Apple Cider Vinegar?
The raw, unfiltered, unpasteurized and unprocessed apple cider vinegar is sourced from freshly juiced Himalayan apples. The vinegar is not made from the concentrate but is made through a natural fermentation process without the use of any chemicals or secondary ingredients and hence contains natural health-beneficial ingredients.

Should We Refrigerate Apple Cider Vinegar?
Due to its acidic nature, vinegar is self-preserving and does not need to be refrigerated. To preserve the quality of the vinegar, keep the bottle tightly capped in a cool, dry place away from direct sunlight.

Is Drinking apple cider vinegar before bed beneficial?
Drinking apple cider vinegar before bedtime mostly benefits in regulating your blood sugar levels. Studies suggest that taking 1-2 tablespoon of apple cider vinegar before bedtime helps reduce fasting blood glucose levels.

Does Apple Cider Vinegar Help With Athlete's Feet?
Yes, apple cider vinegar has a relatively low pH that is excellent for athlete's feet. It can kill fungus and bacteria and neutralize the odour by giving a cooling and soothing feel for itchy feet.

Is Apple Cider Vinegar Good For Acid Reflux?                                                       Yes, it does. Some foods like high-fat foods, carbonated beverages, spicy foods, heavy meals may trigger acid reflux. As a result of this, the stomach may not have enough acid. Apple cider vinegar mimics the acid level of your stomach to assist in better digestion of food.

Can I Drink Apple Cider Vinegar With Lemon Juice?                                        Yes. The combination of acetic acid and lactic acid in apple cider vinegar and lemon juice efficiently work towards maintaining a healthy digestive system, promote weight loss by boosting metabolism, support fat burning, detoxification and provide multiple health benefits.

Does mixing apple cider vinegar in hot water destroy the efficiency?
The mother which is the most helpful bacteria in apple cider vinegar remains stable at high temperature. Yet, it is best suggested to add apple cider vinegar to cool or warm water instead of boiling water in order to preserve as many live bacteria as possible.
Apple Cider Vinegar - Gives Your Body A Healthy Boost & Detox