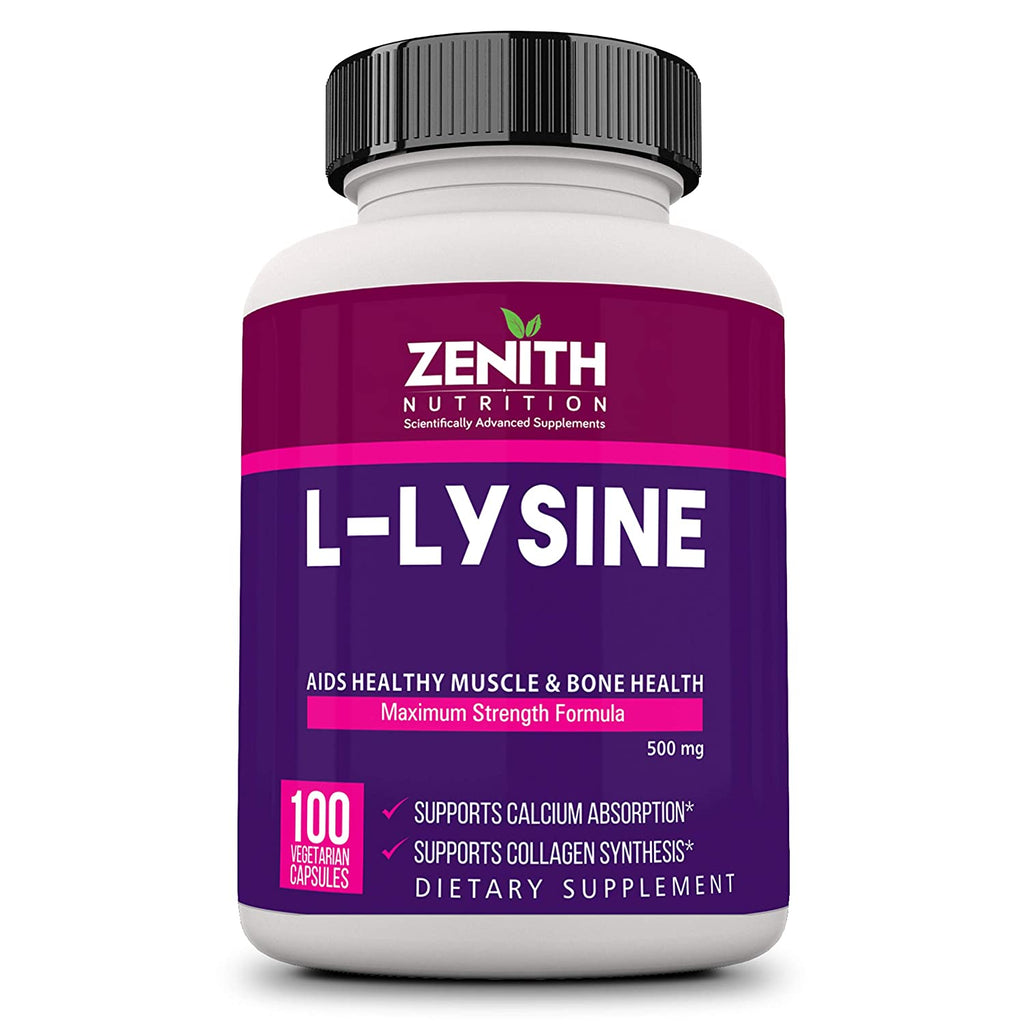 L- Lysine 500mg - 100 capsules
MRP: Rs. 680.00
L-LYSINE PROVIDES MULTITUDE OF HEALTH BENEFITS: L-Lysine is an essential amino acid which is crucial for several body functions, plays a vital role in collagen production, muscle repair, fat metabolism, and energy production. Lysine deficiency in the body may lead to loss of appetite, nausea, fatigue, dizziness and anemia. Zenith Nutrition L-Lysine supplement is easy to swallow, free of preservatives, corn, soy, dairy, yeast, gluten or any other form of excipient.

L-LYSINE BOOSTS IMMUNITY: There is promising evidence that L-Lysine helps to upregulate the immune system, particularly a class of antibodies called IgG. Lysine supplementation helps boost the immune system and may help to develop optimal health. Lysine has antiviral properties, it attacks the virus that causes common cold, herpes, prevents the virus from entering the cells and altering the cell function.

L-LYSINE SUPPORTS COLLAGEN PRODUCTION: Collagen is a protein that helps to support and provide structure to bones and skin. L-Lysine is required for collagen production and can help improve wound healing, it helps speed up the repair process by serving as a binding agent. Lysine brings more cells to the wound area, promotes the formation of new blood vessels, helps speed up the healing process for muscle tears and bone fractures.

L-LYSINE HELP REDUCE ANXIETY: Research suggests that lysine may benefit people who suffer from stress and anxiety. By blocking stress receptors, lysine disrupts the brain's ability to respond to stressful stimuli. Lysine binds itself to the brain's serotonin receptors which can help prevent stress-induced anxiety, helping a person feel more relaxed.

L-LYSINE IMPROVES CALCIUM ABSORPTION: The main function of calcium involve the absorption of calcium in the body. While calcium is usually associated with bone health, it plays a number of important functions in the body like it may help reduce PMS symptoms, improve dental health, muscle and nerve health, anxiety and weight control. L-Lysine enhances the body's absorption of calcium which supports bone health and strength, especially in people at risk of osteoporosis.

L-LYSINE BOOSTS FAT LOSS: In our body, Lysine works as a precursor to carnitine which converts fatty acids into energy aiding in weight loss. With increased energy, it boosts endurance, supports exercise performance, and helps build lean muscle mass. Due to its fat-burning abilities, carnitine results in decreased cholesterol in the bloodstream and thereby contributes to a healthy heart.