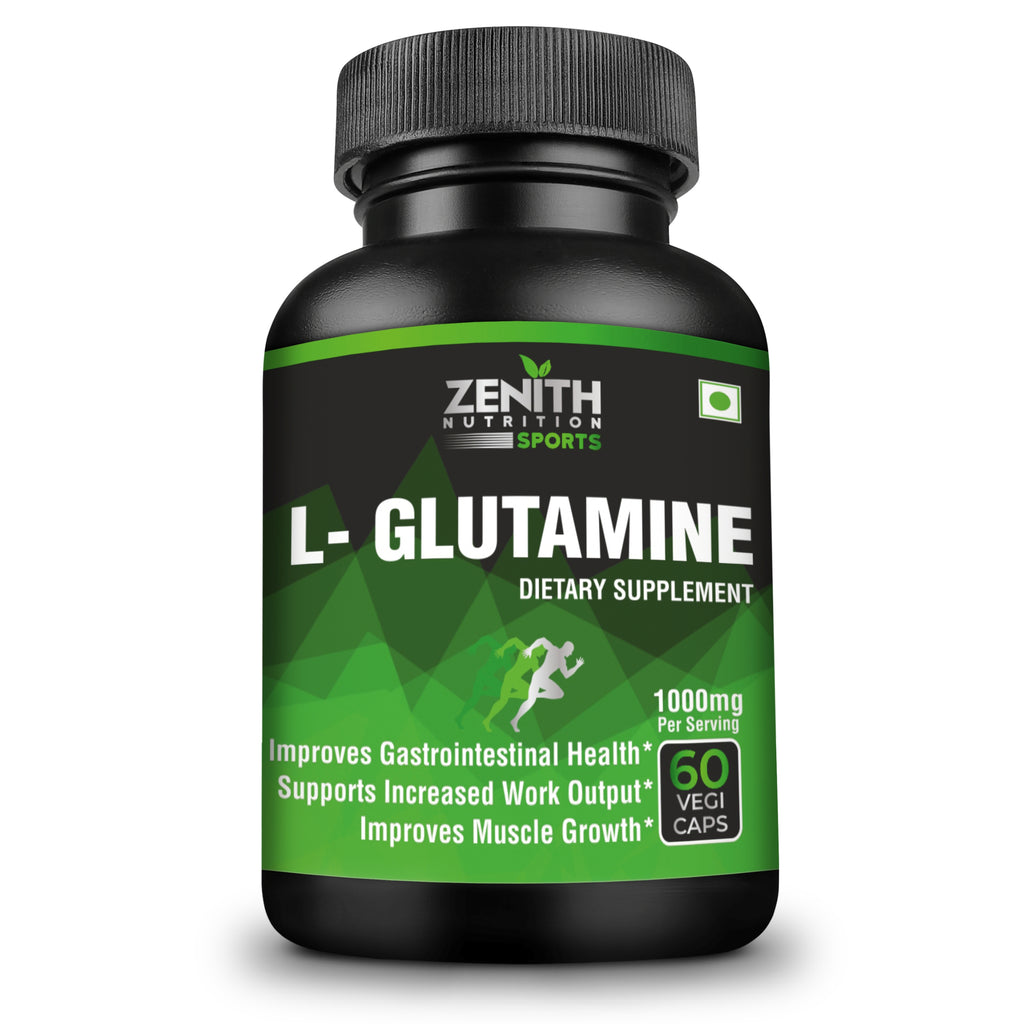 Zenith Sports L-Glutamine 1000mg per serving of 2 capsules | Increases Exercise Performance | Supports Muscle Mass | 60
MRP: Rs. 540.00
EXCELLENT FOR CUTTING: The specialty of glutamine is that it can cross the blood-brain barrier, unlike the other amino acids. When you work out in the calorie-deficit state, your body will burn some muscles along with fat. This can be avoided by adding glutamine. 
 SINGLE INGREDIENT SUPPLEMENT: The 100% pure, free-form, easy to swallow capsules do not contain any flavors, fillers, colors, sugar, gelatin, and sweeteners. It is third party lab-tested for purity, safety, and nutritional value.
 HELPS IN MUSCLE RECOVERY POST-WORKOUT: Glutamine is the most abundant amino acid involved in muscle synthesis; it is readily used by the body to help repair muscle tissue that has been damaged due to strenuous workout. Glutamine supplements can help speed up muscle recovery and support muscle growth.
 HEALTHY IMMUNE SUPPORT: Your intense workout can cause a greater exertion on the immune system. Glutamine prevents this from happening by slowing down the stress hormone, cortisol. It helps to keep the optimal anti-oxidant status and immune health.
 NATURAL & EFFECTIVE AID: Glutamine is a conditionally essential amino acid because the body uses it in large amounts. Whether your goal is to increase athletic performance, boost metabolism, improve recovery or even build muscle, Glutamine can significantly aid your efforts.
 PREVENTS MUSCLE WASTING: After an intense workout, the levels of cellular glutamine drops and your muscles require more glutamine than the amount supplied by a normal diet. The glutamine depletion state causes your body to use muscles for energy rather than carbohydrates. Glutamine supplementation prevents this from happening.