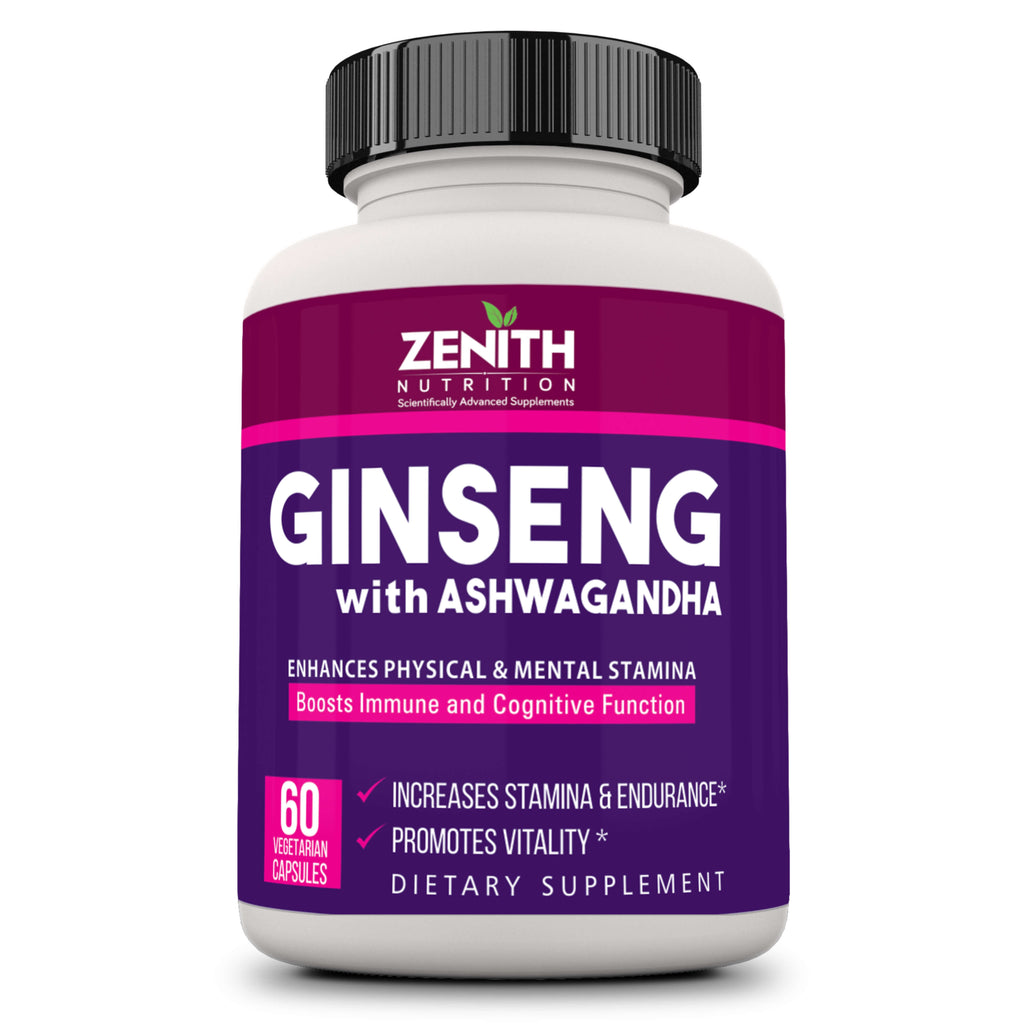 Zenith Nutrition Ginseng With Ashwagandha - 60 Veg caps
MRP: Rs. 560.00
UNIQUE HERBAL DIETARY SUPPLEMENT: Ginseng refers to the root of a variety of plants in the genus Panax that contain a family of steroid glycosides called ginsenosides, which are considered to be responsible for the potential benefits of ginseng. Ashwagandha is a small, yellow shrub whose roots and leaves extract have various health benefits. Zenith Nutrition Ginseng with Ashwagandha is a natural dietary supplement that contains no sugar, corn, dairy, soy, yeast and gluten. It has gone through extensive quality control testing for purity, potency and quality.

PROMOTES ANTI-INFLAMMATORY EFFECTS: Inflammation is the body's natural response to infection, toxins and trauma, characterized by redness, pain, swelling and disturbed physiological functions. Ashwagandha helps lower inflammation by reducing the number of C-reactive proteins in the body. Ginsenosides exhibit antioxidant, anti-inflammatory effects and has positive influence on cardiac, nervous and immune health. The combination of ginseng with ashwagandha address the inflammatory reactions in the body without the side effects many chemical pharmaceuticals cause.

BOOSTS IMMUNE SYSTEM NATURALLY: Ginseng with aswagandha is the best herbal supplement for those who have an under-functioning immune system. Ginseng has been well-known to help maintain the homeostasis of the immune system and to enhance resistance to illness or microbial attack. Ashwagandha possesses powerful antioxidant properties that help protect against the cellular damage caused by free radicals. It improves the body's defense against disease by improving cell-mediated immunity. Research shows that ashwagandha increases the production of nitric oxide which is responsible for activating macrophage activity of the immunity system.


ALLEVIATES STRESS & ANXIETY: Ashwagandha is an adaptogen that helps the body to be resilient to physical and emotional stress and restore a state of balance. It improves the brain's functions like attention, concentration and inhibits high levels of cortisol, the stress hormone. The increased antioxidant activity of the herb helps protect nerve cells from free radical damage. If cortisol levels become too elevated, it may lead to diabetes and fat deposition near the abdomen. Ginseng effectively alleviates anxiety, depression and prevents stress-related physiological disease.
 
PROMOTES VITALITY & FERTILITY: Ginseng is reputed as an aphrodisiac and is proven by research as an herbal promising agent to improve sexual dysfunction. Ginseng is found to improve the sperm quality which is mostly attributed to its active compounds, ginsenosides. Ginsenosides influence hypothalamic-pituitary-testicular axis, modulating stress-induced infertility or lowered testosterone from insufficient dehydroepiandrosterone (DHEA) synthesis. Ashwagandha has been found effective in promoting healthy reproductive balance and increasing the testosterone levels along with the sperm count.

HELPS REGULATE BLOOD GLUCOSE LEVELS: Studies have found ginseng to help reduce blood glucose, cholesterol and triglycerides. Ashwagandha stimulates insulin secretion in the bloodstream thus improving the breakdown of sugar in the blood. A range of chemical compounds in ginseng such as ginsenosides, alkaloids, polypeptides help attenuate hyperglycemia in two ways, through enhancing pancreatic β-cell function and through reducing insulin resistance. Ginseng extract helps increase ATP production, which in turn increases insulin production as insulin deficiency is often liked to a lack of ATP produced.
Directions: Take one serving after food or as directed by the physician. Store in a cool, dry place.

Disclaimer: These statements have not been evaluated by the FDA. These products are not intended to diagnose, treat, cure, or prevent any disease. There are no guarantees that every person using this product/service will see the expected results for sure. Results depend on a lot of factors and the results may vary from person to person.

Warnings: Pregnant or lactating women, diabetics, hypoglycemics, and people with known medical conditions and/or taking drugs should consult with a licensed physician and/or pharmacist prior to taking dietary supplements.