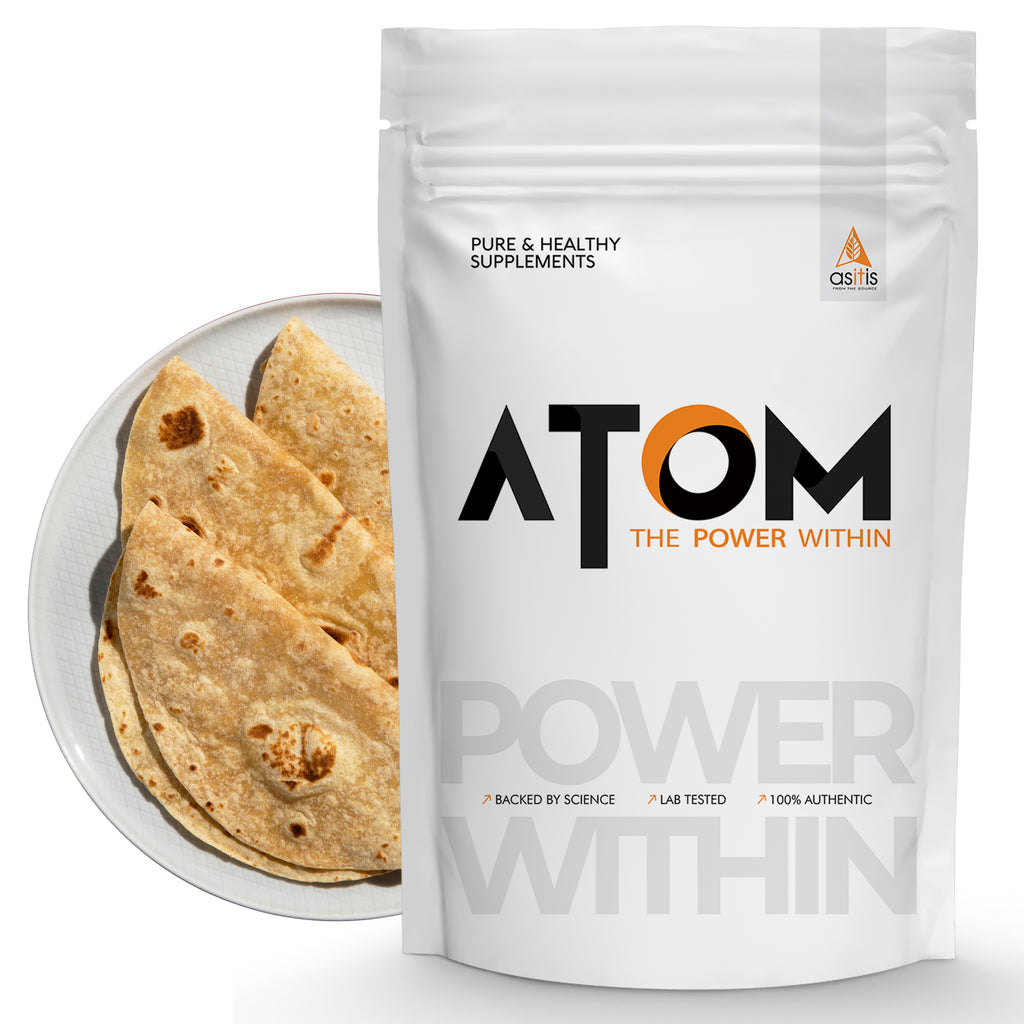 AS-IT-IS ATOM Roti Protein 1kg | Make Roti's Protein Rich | Easy to use | 25g Protein per Serving
MRP: Rs. 1,899.00
MULTI-SOURCE PLANT PROTEIN MIX: ATOM Roti Protein is formulated with a powerful combo of pea protein isolate, brown rice protein isolate, and soy protein isolate. The formulation aims to proactively add functional macronutrient protein for the nutritional enhancement of conventional foods. The 100% vegan, high-quality, plant-based protein powder lends you a hit of 25g protein per serving.
THE EASY & QUICK PROTEIN FIX: ATOM Roti Protein is the best way to fortify the protein content of your daily meals without putting in an extra effort. The easy toss of a scoop of Roti Protein into your regular roti flour gets you the easy fix for daily protein intake. No Indian meals are complete without rotis and with ATOM Roti Protein, your rotis become extra rich in nutrition.
UNFLAVOURED & UNSWEETENED: ATOM Roti Protein is a simple, fresh, and handy way to incorporate high-quality protein into your daily diet. The unflavoured, and unsweetened Roti Protein has fine texture and blends easily with roti atta, breakfast cereal, oatmeal, soups, dosa/idli batter, dal, and gravies. You can also use Roti Protein powder in your baked goods like cookies, muffins, pancakes, brownies, and protein bars to enrich the nutritional content of your foods.
SUPPORTS FITNESS & ACTIVE LIFESTYLE: The low-carb, no sugar, low-calorie, lactose-free, sustainably sourced Roti Protein powder makes quality nutrition easily accessible. Delicious foods can only satisfy your taste buds, but food rich in nutrition can be a great investment for better health. ATOM Roti Protein is perfect fit for vegans, women-homemakers, old age individuals, and children who fail to achieve the intake of nutritious foods daily.
ENHANCES THE NUTRITIONAL VALUE: ATOM Roti Protein is a convenient way of adding the goodness of plant protein to your diet. It is a promising solution to your family's nutritional needs. Roti Protein can be used to prevent nutrient intake shortfalls, or balance the total nutrient profile of a diet. Appeals greatly to those who do not prefer to drink protein shakes, or those looking to supplement their diet through vegan means only.