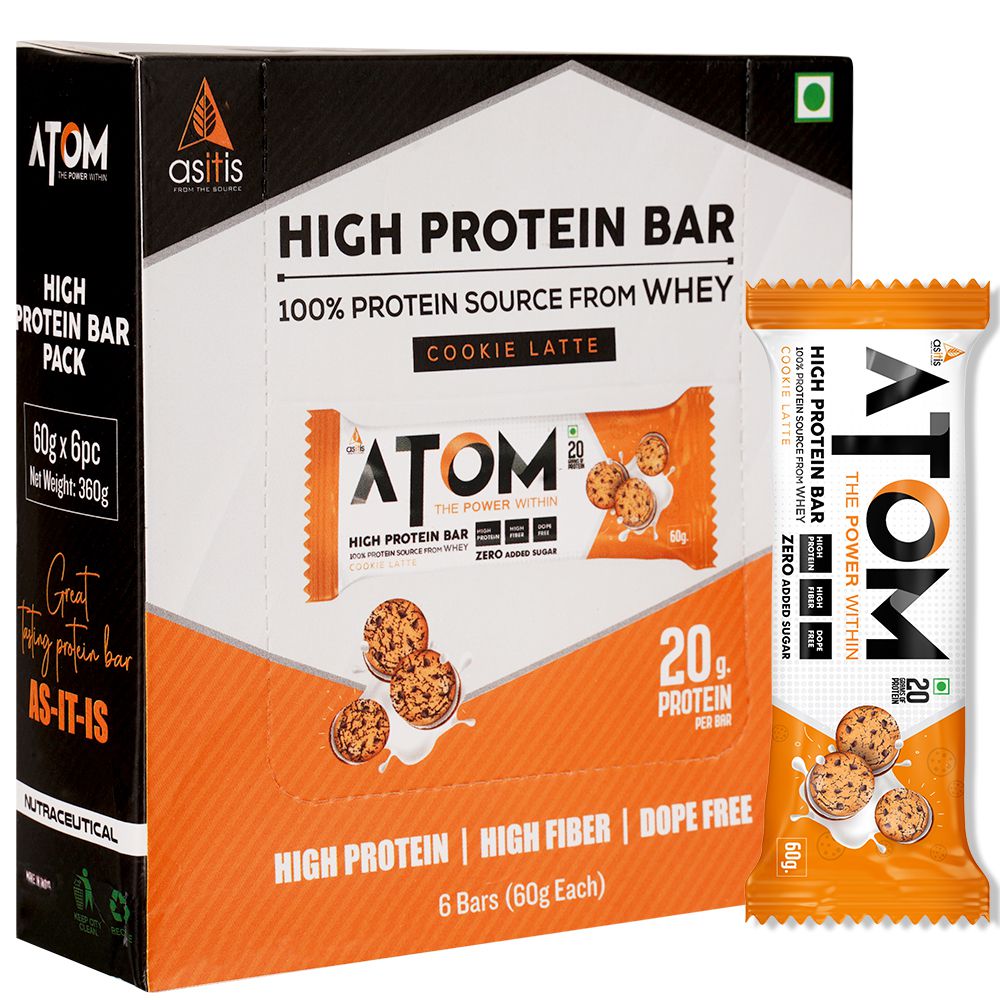 AS-IT-IS ATOM High Protein Bar | 20g Protein | Zero Transfat | Zero Added Sugar | Whey Protein Concentrate, Isolate & Hydrolysate as Protein Source | Pack of 6 (60g x 6)
Sold Out
20G PROTEIN PUNCH:

 ATOM High Protein Bar comprises unique protein blends (Whey Protein Concentrate, Whey Protein Isolate, and Whey Protein Hydrolysate). The easy-to-digest protein bar gives you an impressive dose of 20g of highly bioavailable protein so you never run out of essential nutrients to keep your muscle synthesis going. The high protein to carb concentration of the protein bar makes it ideal for a pre-workout energy boost, post-workout muscle recovery, and post-lunch snack when you are on the go.
ZERO ADDED SUGAR:

 

If you're looking for a quality protein source without unwanted additives, the caffeine-free smart protein bar with zero added sugar gets the pure protein your body needs without the dreaded crash. Munching on a protein bar before your workout can increase the muscle glycogen stores and enhance performance. The protein bar can quickly raise the plasma concentration of amino acids and impact the stimulation of muscle protein recovery and protein synthesis when consumed post-workout.
4 HOURS SUSTAINED ENERGY:

 ATOM High Protein bar is designed to meet the present-day active lifestyle demands for more energy. When you are in a rush, want an energizing snack before your endurance training, or a quick energy boost during your mid-workout, are tied up to too long hours of desk jobs or dieting for weight loss, the ATOM protein bar can be a great way to get a sustained energy boost.
REDUCES CRAVINGS:

 ATOM High Protein Bars are a tasty and healthy alternative for those who crave confectionery. The readymade, compact protein bars take a small amount of space in your handbag. Keeping them in your bag can be beneficial when hunger hits. The high protein composition of the bar can promote fullness and signal the release of an appetite-suppressing hormone, keeping your stomach full between meals.
GREAT TASTING NUTRITION:

 The high-quality Protein bar is a convenient, handy, soft, amazingly nutritious way to ensure you get protein at any time of the day. The protein bar contains a soft protein center coated with Whey crispies to deliver that satisfying crunch texture when you take a bite. ATOM protein bar comes in two delightful flavors cookie latte and blueberry classic cake. The ready-to-eat pocket-sized protein bars could be the best way for essential nutrition intake while on the go.