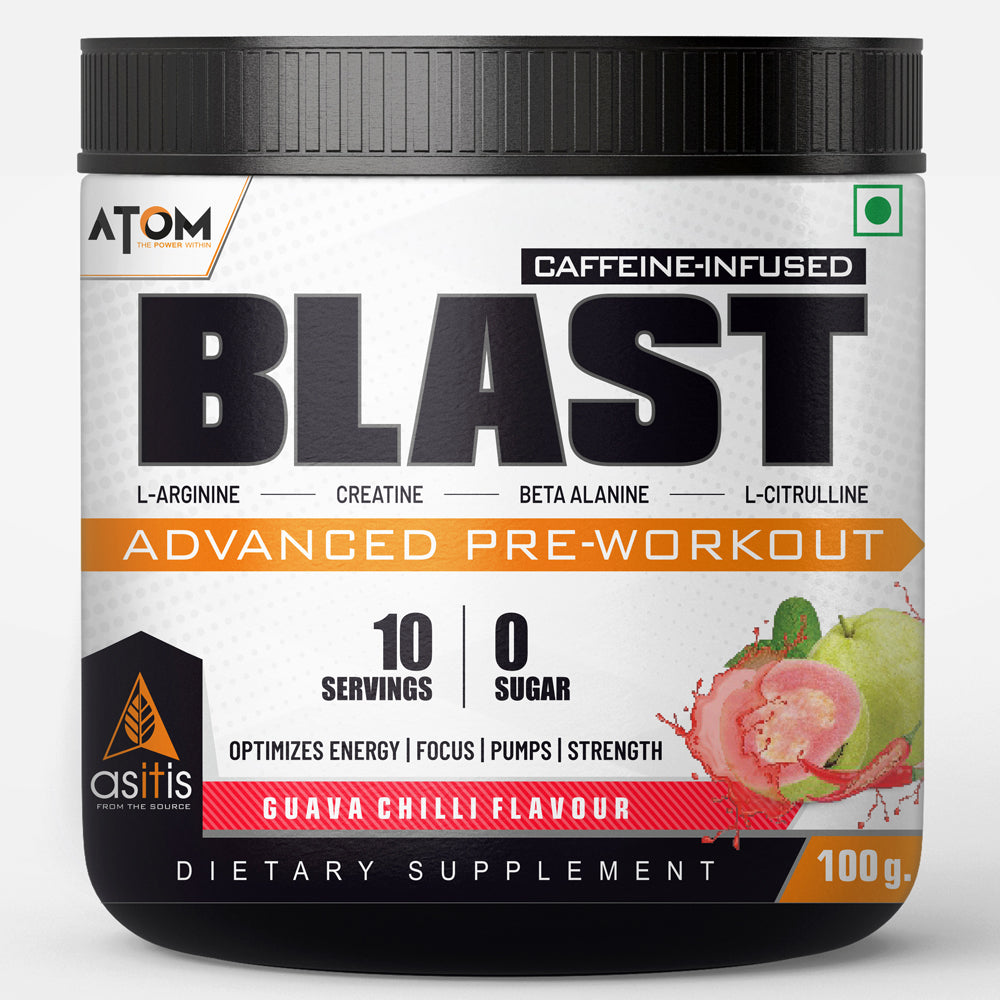 ATOM Blast Advanced Pre-workout
MRP: Rs. 842.00
ADVANCED PRE-WORKOUT SUPPLEMENT: ATOM Blast advanced pre-workout supplement is made by integrating performance-enhancing proven ingredients that promote game-changing progress every time you hit the gym. Whether you are a beginner or advanced athlete making efforts to push yourself to the next level, ATOM Blast is a perfect supplement for meeting your fitness goals. The GMP-certified, dope-free supplement is 3rd party lab tested to ensure quality and potency.
PROMOTES MENTAL FOCUS: If you feel challenged to stay motivated for your training sessions, or you find mental exhaustion sets in as your training sessions get more intense, ATOM Blast can be extremely beneficial in keeping you focused. Caffeine increases alertness and reduces perceived effort, Taurine improves time to exhaustion, ginseng and green tea extract improve oxygen uptake and endurance capacity. L-Carnitine helps you train harder and longer by reducing physical and mental fatigue.
INCREASES STRENGTH & PUMPS: Muscle pumps have a great role in your workout routine, greater muscle pumps mean a greater rate of transport of oxygen and nutrients to muscles and greater potential for better protein synthesis and an increase in muscle tissue size. L-Arginine and     L-Citrulline are both nitric oxide enhancers, which increase the pumping of oxygen and nutrients to working muscles. The right combination of strength training and pre-workout supplementation boosts muscle gains.
ZERO SUGAR | ZERO CARB: ATOM Blast potentially helps you in all areas of workout, from the pump to focus to energy. The zero-sugar, zero-carb supplement has key ingredients like Creatine, Green coffee bean extract result in improved energy levels, Beta alanine prevents fatigue and allows for better muscle contractions. Arginine and Citrulline will enhance the ATP supply to skeletal muscles, prevent fatigue, and potentially allow you to blast through more sets and reps.
INCREASED MUSCLE MASS: Energy, endurance, focus, pumps, and strength-promoting factors of ATOM Blast give you an edge to conquer the gym session and translate into solid muscle gains. Arginine and Citrulline reduce ammonia accumulation during training and enhance ATP supply to skeletal muscles. NAC, Vitamin C, pyridoxine, niacinamide, and folic acid increase antioxidant levels in the body and promote exercise performance by neutralizing exercise-induced oxidative stress.
GAME CHANGING FORMULA: Workout enhancer fuel suitable for men and women packs a flavourful punch and is formulated to provide you with the rapid-acting energy, focus, and power. The workout transformative factors not only perform as a tool for jumpstarting your workout but allow you to push harder, go further, and get gains faster. The convenient fuel allows you to endure a challenging workout and is perfect for cross-fit, cardio workouts, and strength training.