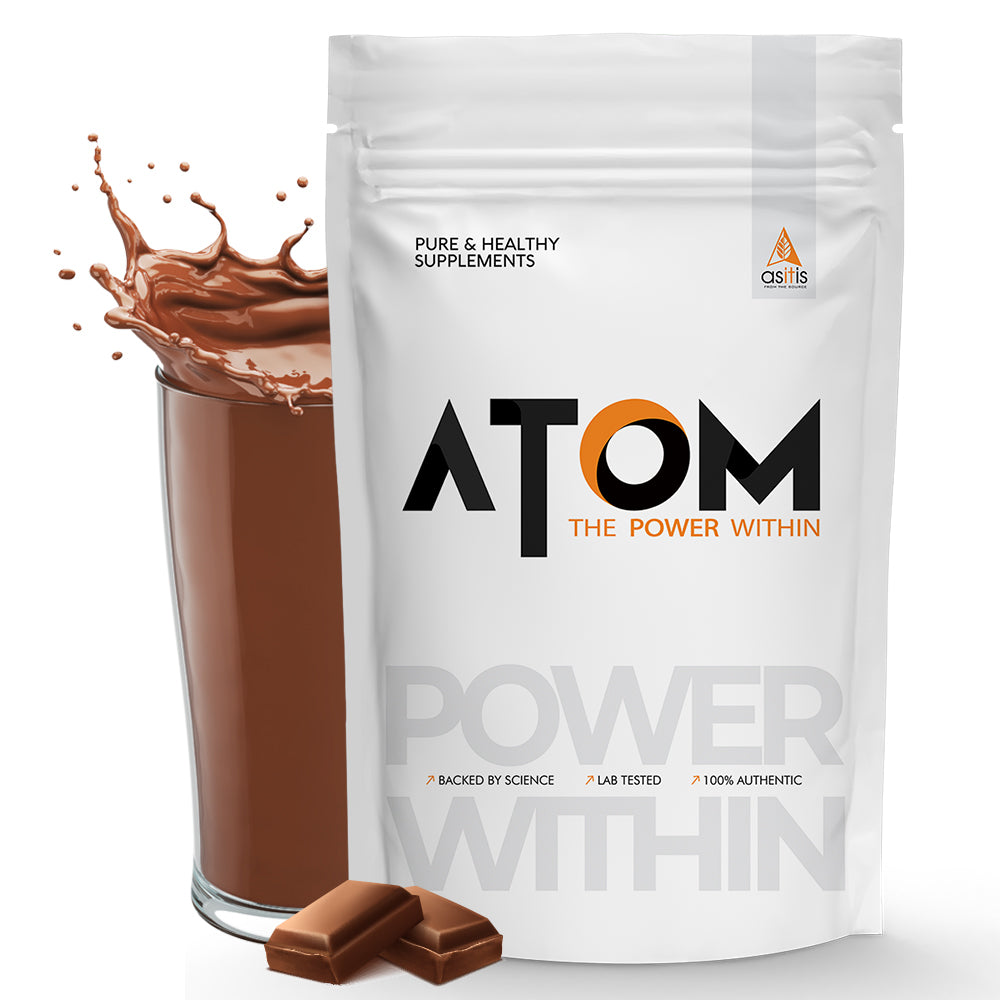 AS-IT-IS ATOM Plant Protein 1kg | 25g Protein | Amino Profile similar to Whey | Easy to Digest | Vegan
MRP: Rs. 625.00
PACKED WITH 25G PROTEIN PER SERVING : The dairy-free alternative gives super stimulus to your muscles in the same way as Whey (when the training stimulus is adequate). Packed with 25g protein per serving, the protein blend offers a full range of amino acids to support muscle strength and muscle gains in response to resistance training. Pea Protein has a rich source of amino acid but is low in cysteine and methionine which complements well with brown rice protein to make up for the shortfall of amino acids and to reach the high concentration of leucine. The leucine, isoleucine, and valine values in ATOM plant protein are nearly equal to that of Whey Protein. So, you can expect faster repair of muscles and faster rebuild similar to Whey.

MORE EFFECTIVE COMBINATION OF PROTEIN SOURCES: ATOM plant protein is a well-balanced blend of brown rice protein and pea protein that is more effective than the single protein powder. The protein powders are complementary in amino profile and provide sustenance to energize your day. Supports greater protein synthesis in novice resistance-trained individuals, helps maintain positive nitrogen balance in strength/power athletes, prevents significant losses in lean muscle (that could have a detrimental effect) on endurance trainees. The supplement is manufactured in a GMP-certified manufacturing plant, it is 3rd party lab-tested and is integrated with a 2-step authenticity check method.  

EXCELLENT ALTERNATIVE TO WHEY PROTEIN: ATOM 100% plant-based protein blend is designed to match the amino profile of Whey. The composition of protein and BCAA per 100g of ATOM plant protein almost equals the composition of protein and BCAA in Whey protein. Our supplement makes you extra accomplished with its herbal blend, vitamin and mineral blend, and enzyme blend. Beetroot enhances endurance, strengthens muscle contraction, increases time to exhaustion, moringa helps reduce recovery time, re energizes and rebalances your body. Tulsi enhances the ability of physical exertion, it is loaded with antioxidant and anti-inflammatory properties to help relax muscles and fight fatigue.

PROTEIN DENSE NUTRITION ON THE GO: ATOM plant protein is perfect for anyone with a dairy allergy, soy allergy, and those who follow a vegan diet. In addition to providing protein and amino acids, the plant-based protein blend is packed with healthy fats, fibers, vitamins, minerals, and antioxidants to invigorate your workout routine and empower your health. Perfectly suitable for people with increased protein needs such as older adults, professional and recreational athletes, marathon runners, gym-goers. The vegetarian formula does not contain added sugar or caffeine and is the best way to pump up your performance, improve focus, and recovery after exercise. The easy-to- consume, healthy supplement can be a game-changer for your busy schedules.

ASSISTS IN BOTH WEIGHT LOSS & BULKING PHASE: Regardless of your fitness goals, you'll benefit from the broad spectrum of amino acids, micronutrients, antioxidants that our protein supplement got to offer you. Plant protein blend helps maintain effective metabolic function, lean muscles, helps you reach fitness and weight loss goals. The protein blend confirms the modest satiety effect, promotes greater perceived fullness, helps you burn more calories when combined with resistance training. The protein supplement can help accomplish weight gain goals when taken in conjunction with a pure carb (maltodextrin) or high-calorie diet. The combination of protein and pure carb decreases glycogen breakdown, and works effectively to increase body mass by stimulating protein synthesis.

EASY TO DIGEST & TASTES GOOD: ATOM plant vegan protein is an exception to the common belief that plant proteins are incomplete, may not digest well as Whey, and may not have a favourable taste. Our supplement has a good profile of amino, comes in delicious chocolate flavour, is fortified with micronutrients and enzymes to strike a balance between nutrition and taste. The protein supplement is free from sugar, lactose, soy, and goes well with almost all diet plans. The enzymes assist in better absorption of nutrients, helps avoid digestive distress, promote faster assimilation of the nutrients to translate into better muscle gains, recovery, and overall health. Mix up with water or milk for a delicious post-workout reward, make protein bars, mix with oatmeal or smoothies.