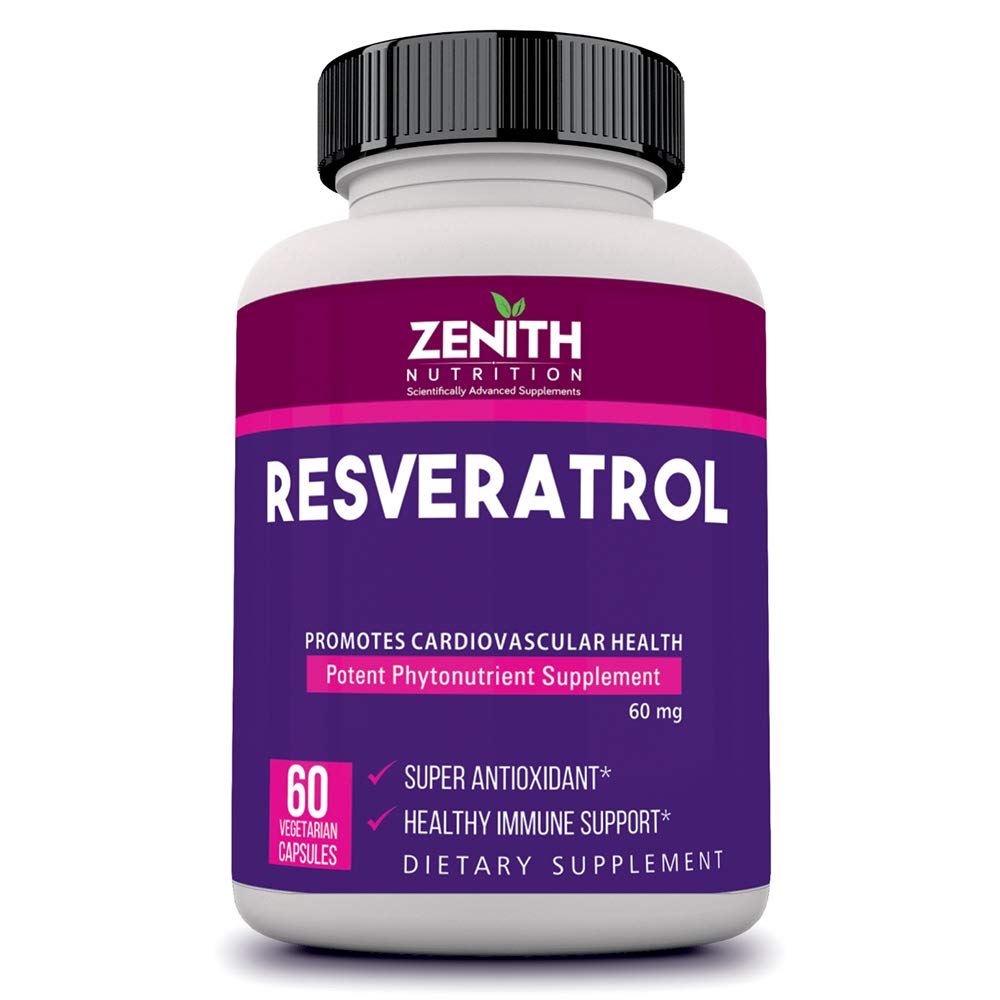 Resveratrol 60mg - 60 Veg caps
Sold Out
NATURAL SOURCE OF SUPERPOWER: Resveratrol is a unique nutrient found in grape skin which is an exceptional source of antioxidant and packed with surprising health benefits. Supplementing your daily routine with Resveratrol is an easy way to get all the powerful benefits it can procure as the body absorbs a low percentage of Resveratrol found in food.
ADVANCED ANTIOXIDANT PROTECTION: Resveratrol is revered for its potent antioxidant benefits. Antioxidants donate an electron to free radicals, stabilizing them and ending the chain of cell damage. Resveratrol may help fight aging, improves cardiovascular health, reduces the risk of a blood clot, inflammation, supports brain health and promotes vitality.
HIGH POTENCY PURE RESVERATROL: The vegetarian, easy to swallow supplement is formulated with all-natural, highest quality 95% resveratrol which contains no sugar, gluten, flavour, lactose, fish, salt, and colour. The supplement goes through stringent lab-testing for purity, quality and potency.
PLAYS A VITAL ROLE IN ENERGY PRODUCTION: The mitochondria, which is the powerhouse of the cell controls the metabolic activities of the cell and ultimately the body. Resveratrol's ability to fight the free radical damage on the mitochondria and upregulate mitochondrial numbers has a big role to play in energy production, fat, sugar metabolism and blood sugar stability.
SUPPORTS CARDIOVASCULAR HEALTH: Resveratrol helps to protect the endothelium, the delicate inner layer of your arteries from oxidative free radical damage. It helps to prevent the damage caused to blood vessels due to high blood pressure, reduces bad cholesterol, prevents blood clots and aid in keeping good heart health.
PROMOTES HEALTHY AGING: Your body is constantly exposed to free radicals from various sources. Oxidative stress which results from the imbalance between free radicals is responsible for some of the things that go along with your body's age-related changes. Studies have noted that Resveratrol effectively counteracts the damage that free radicals cause to your cells.
BENEFITS HEALTHY SKIN GLOW: Our skin performs as our body's first line of defence against environmental stressors and pollutants. Resveratrol functions as an antioxidant to scavenge free radicals and to prevent free radical damage. It helps reverse the appearance of premature aging, reduces fine lines, wrinkles and supports collagen synthesis for a youthful glow.
CLICK ON THE LINK FOR MORE INFORMATION ON RESVERATROL
Directions: Take one serving after food or as directed by the physician. Store in a cool, dry place.

Disclaimer: These statements have not been evaluated by the FDA. These products are not intended to diagnose, treat, cure, or prevent any disease. There are no guarantees that every person using this product/service will see the expected results for sure. Results depend on a lot of factors and the results may vary from person to person.

Warnings: Pregnant or lactating women, diabetics, hypoglycemics, and people with known medical conditions and/or taking drugs should consult with a licensed physician and/or pharmacist prior to taking dietary supplements.