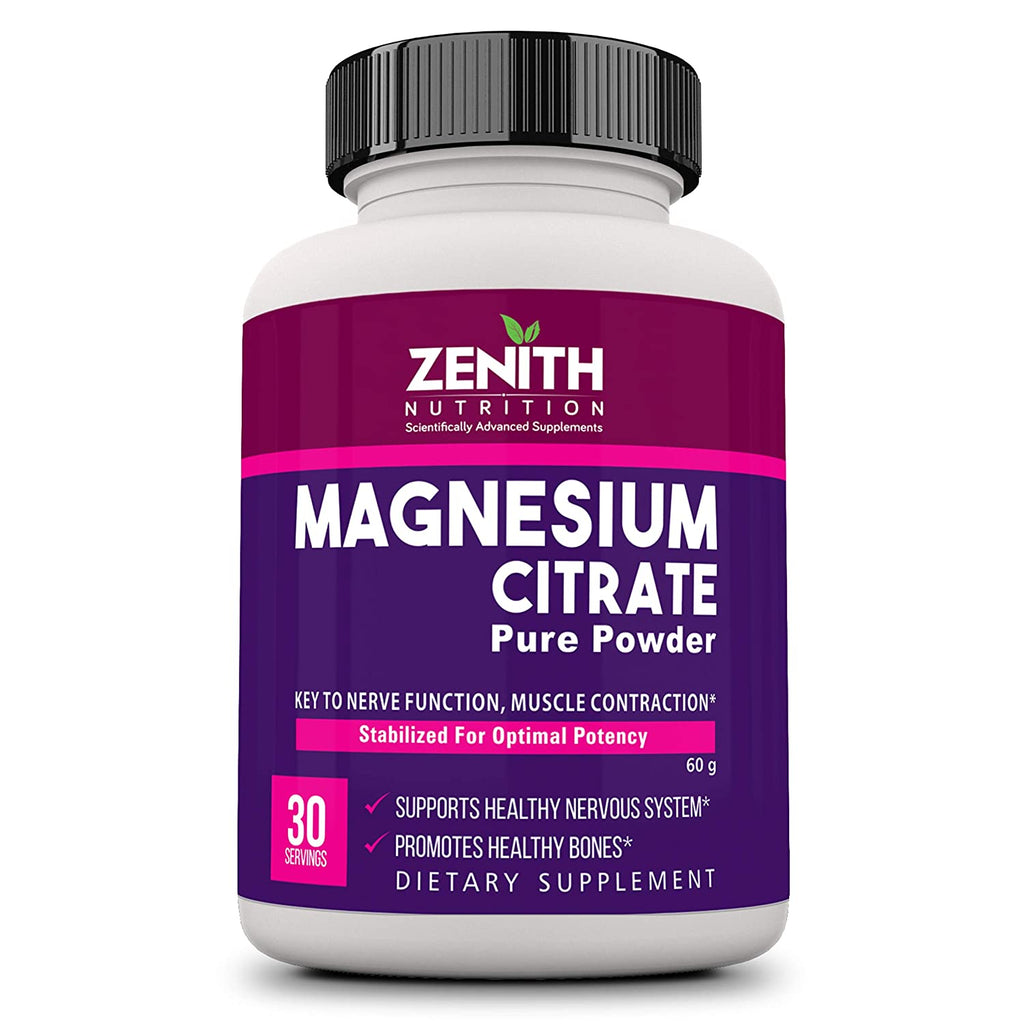 Magnesium Citrate Powder - 60 gms
MRP: Rs. 510.00
TRUSTED QUALITY: The natural, vegetarian, easy to swallow supplement has a single ingredient and is free from soy, milk, yeast, gluten, and does not contain artificial flavours, colours or additives. To ensure a high-quality product, our supplements undergo rigorous lab-testing and are proven to be safe.
HIGHEST POTENCY: Magnesium Citrate is the most beneficial form of Magnesium for absorption and bioavailability. The high potency supplement provides convenient, fast-absorbing 330mg of active elemental magnesium per serving. Clinical studies have indicated that supplementing with Magnesium in the form of Magnesium Citrate offers better absorption than Magnesium Oxide.
MOST VITAL MICRONUTRIENT: Magnesium is the most vital micronutrient which you should pay attention to. It is an essential mineral for calcium and potassium assimilation, nerve and muscle impulses, enzyme reactions, heart muscle health, heart rhythm, converting blood sugar into energy, carbohydrate metabolism, the formation of bone, and may be beneficial for anxiety, depression, nervousness, and heart health.
PROMOTES NORMAL MUSCLE FUNCTION: Magnesium plays an essential role in the production of the body's primary source of energy – ATP. A magnesium deficiency can impair your ability to exercise. Magnesium helps your muscles to take in oxygen which is necessary for maintaining electrolyte balance and works with calcium to ensure that they contract and relax properly during exercise.
HELP IMPROVE STRESS LEVELS: Magnesium Citrate supplement helps maintain normal levels of Magnesium to prevent the suffering of deficiency. A lack of sleep and increased stress levels can have a direct impact on the increased levels of Cortisol (stress hormone). Magnesium Citrate has been shown to improve the quality of sleep by regulating stress hormones.
SUPPORTS HEALTHY BOWEL MOVEMENTS: Magnesium Citrate is well known for its laxative properties and its supplementation is proven beneficial for those with water retention and bloating problem. It helps draw water into the intestine to help soften stools and produce a smooth bowel movement, thereby indirectly helps reduce bloating and inflammation.
Directions: Take one serving after food or as directed by the physician. Store in a cool, dry place.

Disclaimer: These statements have not been evaluated by the FDA. These products are not intended to diagnose, treat, cure, or prevent any disease. There are no guarantees that every person using this product/service will see the expected results for sure. Results depend on a lot of factors and the results may vary from person to person.

Warnings: Pregnant or lactating women, diabetics, hypoglycemics, and people with known medical conditions and/or taking drugs should consult with a licensed physician and/or pharmacist prior to taking dietary supplements.
Also Try, Zenith Nutrition Magnesium Citrate 330mg - 60 Veg caps