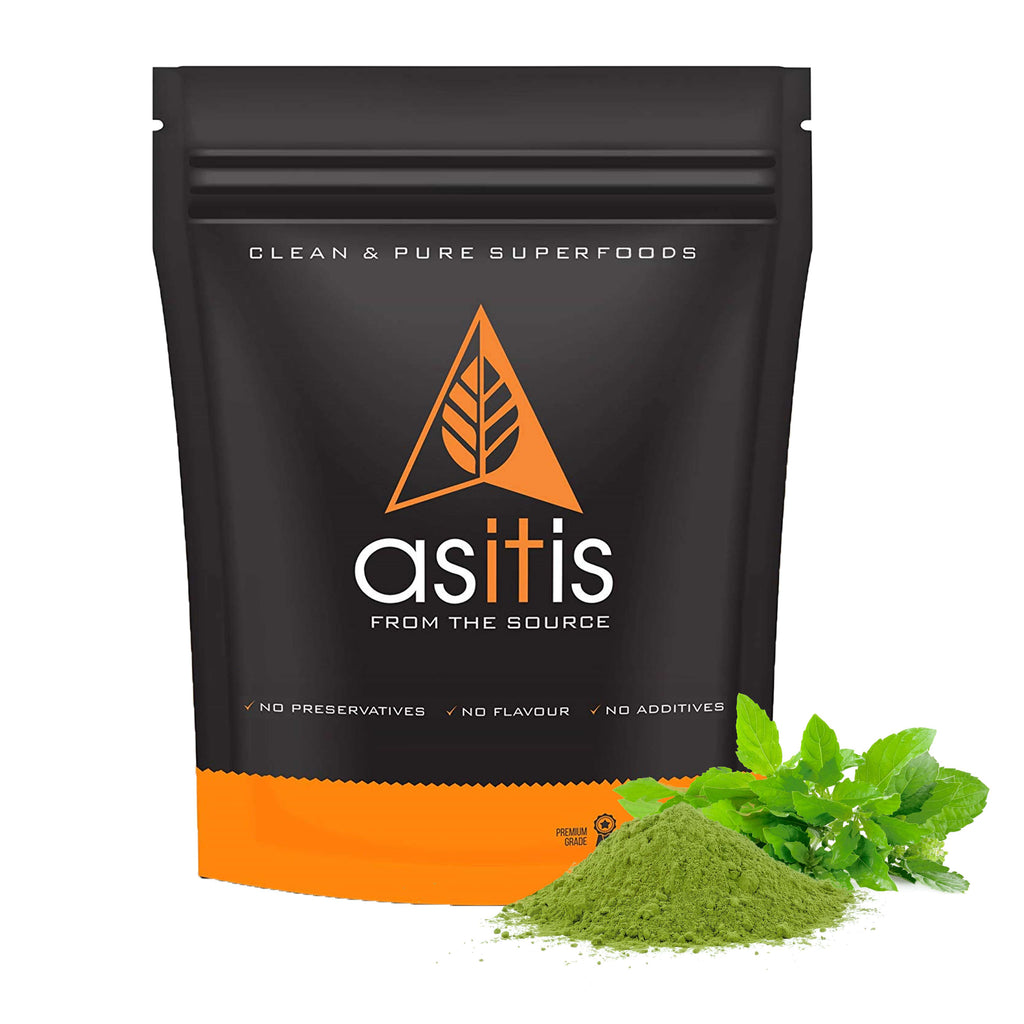 AS-IT-IS Tulsi Powder - 250g | 100% Pure & Natural | Promotes Immunity | Stress Reliever| Heart Health
Sold Out
100% PURE & NATURAL: AS-IT-IS tulsi powder is formulated from a natural herb, tulsi which is revered and considered sacred in the Indian ayurvedic traditions. Tulsi, which is also called Ocimum sanctum or Holy Basil is a powerhouse of antioxidants and is often referred to as an 'Elixir of Life' for its healing power and its benefits that promote wellbeing and resilience.

SUPPORTS HEALTHY DIGESTION: Tulsi is a rich source of antioxidants and phytonutrients which offer potent detox benefits. Consuming tulsi water daily or adding a teaspoon of tulsi powder to smoothies or meals helps soothe your stomach. It may help improve bowel movements, fight against acid refluxes, and indigestion issues like bloating, constipation.

BOOSTS IMMUNE FUNCTION: The aromatic herb is a rich source of biologically active compounds. It has exceptional antibiotic, germicidal, and disinfectant properties which effectively help protect the body from bacterial, viral and fungal infections. Tulsi undeniably helps improve the T helper cells and natural killer cells activity, boosting the immune system.

MAY HELP RELIEVE INFLAMMATION: Tulsi powder does not contain caffeine or other stimulants, yet has a positive effect on stamina due to its effective detox benefits and its effects on relieving stress. It has excellent antioxidant and anti-inflammatory properties which helps beat inflammation of joints and promotes faster recovery after workouts.

PROMOTES RESILIENCE TO STRESS: Consumption of Tulsi powder on a daily basis is said to bring in positive effects on the mind. Tulsi is known to bring your cortisol levels down and make you feel relaxed. Tulsi supports the body on a cellular level to reduce the negative impact of stress, safeguards your body from physiological, metabolic, and chemical stress, inviting calmness and clarity within.

A PROMISING HERB FOR SKIN BENEFITS: Tulsi benefits skin by providing it with a deep-cleansing effect. It not only removes dirt and impurities but also removes excess oil. The wonder herb with its antibacterial properties is found to be effective on acne, skin infections, helps lighten dark spots, blackheads and improves skin texture when applied as a face pack.